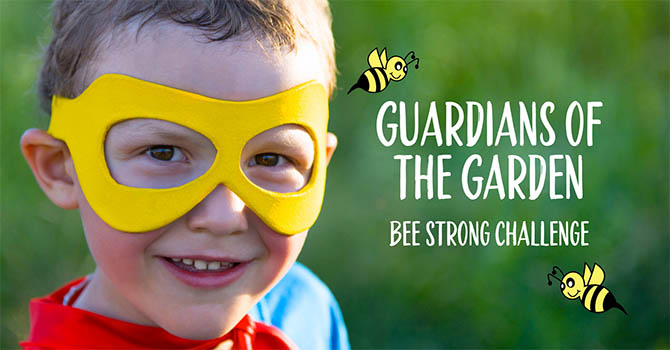 VanDusen Guardians of the Garden
Guardians of the Garden is a new program aiming to connect children with nature by educating them on a variety of topics to gain a better understanding of our planet.
We hope that along with an interest in becoming a Guardian of the Garden (GOG), children will feel connected and invested in learning more about ecology and how they can contribute to a better habitat for everyone.
We all need each other: plants, animals, organisms, and humans!
Share your Guardians of the Garden photos with #VanDusenGOG
Bee Strong Challenge
Extended to April 10, 11, 17, and 18
Spring is a time of regeneration in the Garden when plants and pollinators demonstrate their resilience after enduring harsh winters. Just like you have shown your resilience this past year, our pollinators continue to thrive and work hard to provide food for living things on the planet.
What participants will do
Help us build a kinder environment for our hardworking pollinators by becoming a VanDusen Guardian of the Garden. Join us this spring for the Bee Strong Challenge to learn more about our pollinator friends, and how we can do our part to protect them.
Participants will follow a typical bee adventure through the Garden as they forage for pollen and water (around 4,000 steps / 4km), learning about the pollinator-friendly flowers at VanDusen Garden and facts about bees along the way.
Once participants complete the corresponding activity sheet, they will receive their first GOG Award:
A Bee Strong badge
Pollinator BUD-DIY (sunflower growing kit)
A treat to take home
Participants are required to bring their own writing utensils for the activity sheet. Dress appropriately for the weather and wear comfortable footwear.
Capes and pollinator costumes are always encouraged! Share your photos with #VanDusenGOG
As an added bonus, all Bee Strong participants can present their completed activity sheet at Shaughnessy Restaurant for a free ice cream with the purchase of any regular menu item. Limited one per participant, offer ends April 18, 2021.
Age of participants
This program is most suitable for children ages 4 to 10 years old, however all ages are welcome to participate in this self-guided activity.
The Guardians of the Garden Bee Strong Challenge is an add-on activity. Both an admission ticket and the add-on ticket are required at point of entry to participate and collect a prize. Adults/guardians that are supervising only require a general admission ticket.
Booking tickets
Tickets can only be purchased online at designated entry times to manage capacity and to limit contact upon entry.
social media channels for assistance.
If the date and entry time you are interested is not available for the Guardians of the Garden activity, please reach out to us on our
A service fee of $1 will be added to each ticket for non-members. This fee allows us to offer ticketing from an online platform to ensure that we can manage capacity and provide our visitors with the safest, touch-free experience.
We are not accepting the Tourism Challenge Privilege Pass, discounts, or coupons for garden entry.