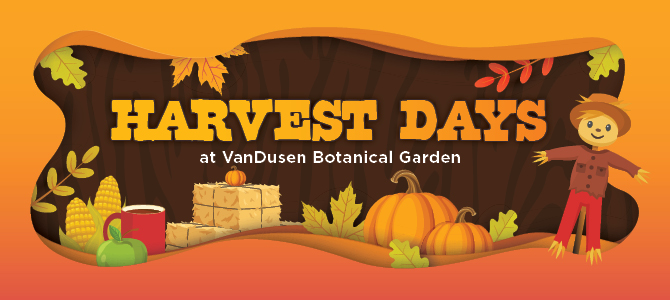 Harvest Days
Event details
Celebrate the fall season with the return of Harvest Days at VanDusen Botanical Garden. Our veggie garden and maze area will be transformed for fall with fun photo areas, activities and entertainment, tasty treats, and more.
Fun for all ages
Enjoy delicious snacks from a selection of tasty food vendors like Popcorn in the Park, Coffee Bike, BistrotVan, and Melt City Grilled Cheese.
Explore the garden's autumn highlights afterwards, including sugar maples, ginkgo trees, bald cypress, and the stunning Autumn Stroll. All-day general admission is included with a Harvest Days ticket.
Kids activities
A fall-inspired craft section will be set up for kids while live music plays. Kids can also enjoy finding their way though the scarecrow-themed hedge maze.
Buy tickets
Purchase your tickets online in advance for a designated entry time.
VBGA members do not need a ticket for entry. Simply scan your valid VBGA membership card upon arrival during event days.
Online ticket purchases for Harvest Days will be directed to our third-party ticketing provider, ShowPass. The City of Vancouver is not liable for the security of the information shared with ShowPass.
Live music
Bluegrass and old-time live music sessions will be held daily from artists such as the Lonesome Town Painters, The Soda Crackers, and No Frills Stringband.
Session times
9:30am to 11:30am
11:45am to 1:45pm
2pm to 3:45pm
Contact us
Showpass ticketing support:
support@showpass.com
1-844-307-7469
VanDusen admission desk:
604-257-8463
VanDusen 24-hour information line:
604-257-8335