History of the heron colony in Stanley Park
The earliest known record of these magnificent birds dates back to a 1921 photo by Leonard Frank of a colony near Brockton Point. It is quite likely that the birds inhabited Stanley Park years before this image was captured, too. Even back then, people were fascinated by the great blue herons.
For almost 100 years, herons have called Stanley Park "home".
Location of the colony
The location of the colony has changed a few times since 1921. When and why the herons change nesting locations is not fully understood.
Other locations of nesting trees after Brockton Point include:
By the aquarium
Around Beaver Lake
Near the zoo
Beach Ave near the Vancouver Park Board offices (current location)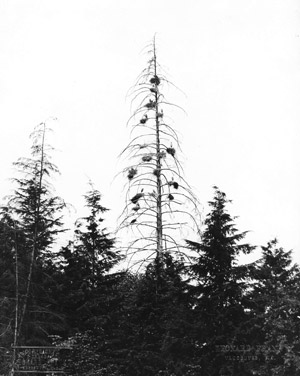 Photo by Leonard Frank, Colony near Brockton Point,1921
City of Vancouver Archives
Timeline of when and where the heron colony has lived since 1921
1921

Records of the Stanley Park heron colony begins

An article in the Province newspaper shows a tree located between Brockton Point and Lumbermen's Arch. Herons were said to hatch in May and fledge in August/September. Total nests: 39.

1967

Heron colony at Beaver Lake

Limited Canadian Wildlife Service (CWS) data indicates the herons at one time built a new colony at Beaver Lake. CWS records describe 37 nests in a single large spruce tree at Brockton Point in 1967.

1978

Heron colony moves to the area around the Vancouver Aquarium

Maximum number of nests recorded was in 1978 (44 nests). Eagle predation is significant at this location.

1980

Canadian Wildlife Services conducts toxicology studies on eggshells

1999

Herons abandon zoo area of the park

Some attributed the zoo abandonment to construction activity, but no formal studies were made about other sources of disturbance or habitat loss.

2001

Herons move to Park Board Office area near 2099 Beach Ave

2003

Protective fencing is installed around the nest tree to minimize human disturbances

2010

Predator guards are installed on nest trees. Racoon predation decreased dramatically.

2015

Heron cam installed by Park Board on nearby building

Contact information, partner agencies, and website policies