Contact us
Address: 6706 Alberta St
Golf shop: 604-713-1816
Clubhouse: 604-257-8357
Langara Golf Course is a traditional-style course located on the south slope of Vancouver. Built in 1926 by the Canadian Pacific Railway, the course was redesigned by Canadian Architect Thomas McBroom.
The contoured, tree-lined fairways are easy to walk and make this challenging par 71 course appealing to players of all levels.
The large rolling greens make scoring a challenge and, with its narrow fairways, accuracy off the tee is paramount. The walkability of the golf course makes it appealing to everyone.
Hours of operation
Hours may change. Phone the golf shop for current hours.
Clubhouse
Daily: 9:30am to 5pm (weather permitting)
Golf course
Daily: dawn until dusk
Golf shop
Daily: dawn until dusk
Course overview
Course length: 6,261 yards
Par: 71
Rating: 68.2
Slope: 120
Driving range: None
Head Pro: Tom Monaghan
Course designer: Thomas McBroom
Tools for playing at Langara
Clubhouse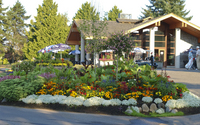 Our Clubhouse at Langara is open to the public, seven days per week. Golfers and non-golfers alike enjoy the comfortable setting and beautiful gardens surrounding the Langara Clubhouse. The dining lounge, with its beautifully glassed walls, allows for spectacular views of the golf course.
Our menu offers a wide range of items including homemade soup, salads, and wraps, items for sharing, and sandwiches. We also have a large selection of tasty burgers.
The Langara Clubhouse is the perfect place to host your next banquet or reception.
Golf lessons at Langara
Langara Golf Course does not offer lessons. Lessons are available at Fraserview Golf Course by The Golf Institute at Fraserview. Visit the institute's website or call 604-257-6923 for more information.
Free golf app

Download the free VanGolf app for easy booking at Fraserview, McCleery, and Langara.
#VanWiFi
Free WiFi is available at this location.