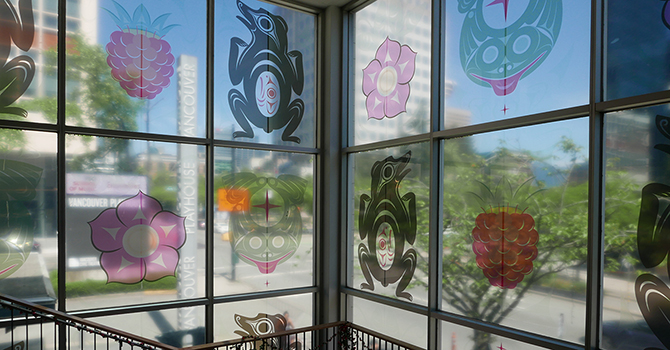 Atheana Picha, Spring Awakening, 2023
Platforms: Nine Places for Seeing
Nine Places for Seeing is the first Platforms program dedicated exclusively to the work of Indigenous artists and was developed in collaboration with advisors from each of the city's three Host Nations.
Over the course of the next two years, Platforms: Nine Places for Seeing will be showcased on multiple public platforms throughout the city and will present new works regularly.
It will feature newly commissioned works by 21 local xʷməθkʷəy̓əm (Musqueam), sḵwx̱wú7mesh (Squamish), səlilwətaɬ (Tsleil-Waututh), and urban Indigenous artists.
Platform locations
Artworks will be displayed on these platforms:
Billboards along 6th Avenue between Arbutus and Fir
Light box at šxʷƛ̓ exən Xwtl'a7shn Plaza 
Banners at Vancouver Public Library, Central Branch 
Glass wall at City Centre Canada Line Station 
Transit shelter posters throughout the city
VanLive! video screen, Robson St and Granville St
Glass wall at Marine Drive Canada Line Station
Windows at the Queen Elizabeth Theatre
Windows at the Vancouver Playhouse
The Bear Mother story
In Haida there is the belief that animals are people. When the animals are in their world, they can take off their animal blankets and clothes and transform into people in their villages and realms.
A chief's daughter was out berry-picking with friends and family when she noticed bear poop all over. She began to ridicule bears for pooping everywhere. The bears took notice and decided to teach her a lesson. As these bears can transform into human form, they did, and tricked her into coming to their village.
Time is different in the animal realm. There, she grew quickly, decided to marry one of those bears that tricked her, and then had two cubs with him. Eventually, she found out her family in the human realm was looking for her. She let her bear-husband know that she was homesick and really wanted to go home and be with her family. He knew he could not be with her in the human realm as a bear, and therefore sacrificed himself for her to go, on the condition that she shared his story and dance with her lineage, family, and clan. The girl's brothers killed her husband, and she took her 2 bear cubs back to the human realm to live with her people.