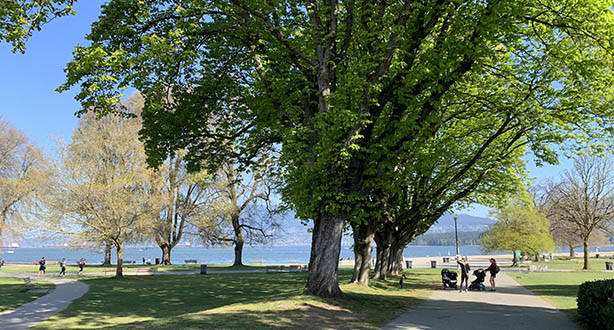 Kitsilano Beach Park Seaside Greenway improvements project
The Seaside Greenway in and adjacent to Kitsilano Beach Park is one of the:
Most popular sections of our pedestrian and cycling network
Only sections of the 28km-long Seaside Greenway that is not separated
Temporary bike path on Arbutus Street
As part of our Room to Move initiative, a temporary two-way bike path was installed on Arbutus Street (between McNicoll Avenue and Kitsilano Beach Park's southern parking lot adjacent to Cornwall) in August 2021.
Find more information about Room to Move and Making Streets for People.
Provide feedback online or by emailing RoomToMove@vancouver.ca.
About the project
This project will:
Establish a safer and more comfortable separated cycling path that connects Balsam St to Ogden Ave across the park for all users, including children, families, and people with reduced mobility
Improve entryways into the park
May 2021

Temporary safety improvements

Temporary improvements in the south parking lot and on the diagonal dirt path near Balsam Street.

August 2021

Engagement round 1: priorities and possibilities

The first round of engagement will ask park and Greenway users, residents, and businesses what is important to them regarding how they access and connect to Kitsilano Beach Park and the Seaside Greenway.

October 2021

Engagement round 2: cycle path route options

The second round of engagement will ask people to evaluate different separated cycle path design options based on the values and priorities identified in round 1, and will help identify a preferred route for the path.

February 2022

Engagement round 3: preferred route

The third round of engagement in early 2022 will help to confirm and fine-tune the preferred route. Feedback will be used to finalize the route that will be presented to the Park Board for decision.

April 2022

Park Board decision

The Park Board approved the proposed separated cycle path

September 2023

Detailed design

The detailed design is underway

Winter/spring 2024

Construction

Construction targeted to begin
Get updates
Please confirm your subscription
Click the link in the email we just sent you.
Contact us