The Seawall in Vancouver
Vancouver has the world's longest uninterrupted waterfront path. The 28 km Seaside Greenway is an uninterrupted pathway, including the Stanley Park Seawall, that extends from the Vancouver Convention Centre to Spanish Banks Park. Perfect for a walk, cycle, or jog, it is the most popular recreational spot in the city.
The Seawall is divided in to two clearly marked sections - one for walkers and joggers (closest to the water), and one for cyclists and inline skaters (inside path).
Be sure to follow the signs to make sure you use the seawall safely, especially on sunny summer days and weekends when the area is particularly busy.
Printable map of the Seawall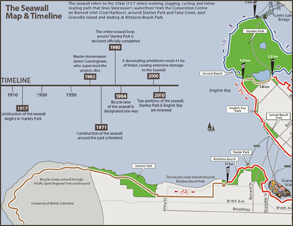 Click the image, above, to view a printable map that fits on a 8½×11-inch sheet of paper.
Improvements to cycling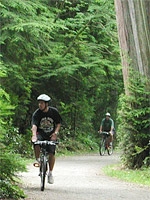 Stanley Park Cycling Plan
Learn about the Park Board's plan to improve cycling in Stanley Park.
About the Seawall
Smoke-free parks since 2010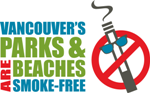 Parking
EasyPark manages parking lots throughout Vancouver, including lots in parks, beaches, and theatres.
Find parking lots and pricing by visiting the EasyPark website.
Help preserve Vancouver parks