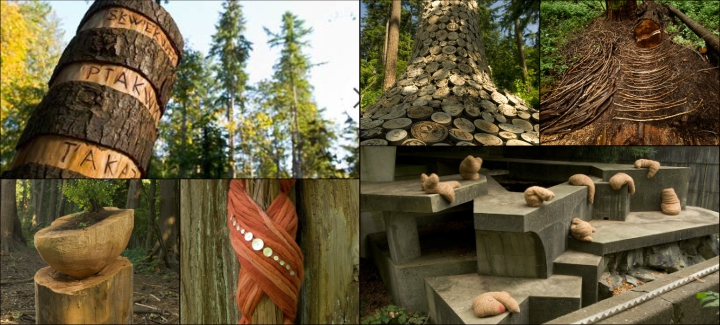 Stanley Park Environmental Art project
On December 15, 2006, after two short hours of gale-force winds, a storm devastated Stanley Park. Out of the devastation arose opportunities to renew, restore, and respond creatively.
The Stanley Park Environmental Art Project honours the park and its significance to our city, and on a greater level, comments on sustainability and climate change.
Between 2008 and 2009, six artists created environmental art works in Stanley Park by collaborating with ecologists, park stewards, environmental educators, and even the park's ecology.
The goals of this project were to:
Inform and interpret our natural surroundings
Help us re-envision our relationship with nature and find new ways to co-exist within the environment
Engage us through discussion and hands-on workshops
Environmental art is created with natural materials, is designed to be non-destructive, and is usually site-specific so can't be moved to another location.
The artworks in Stanley Park have a special relationship to the park as they are designed to work in harmony with the surrounding environment and habitat.
Take a self-guided tour of the Stanley Park Environmental Art Project

(1 MB)
Photos by Paul Colangelo.
Artworks
Ephemeral art works
Natural and organic materials are used to create works that will have a minimal impact on the environment and that will, over time, decay and return to the earth. This type of artwork is dynamic and ever-changing as outside elements, or the activities of animals and insects, will alter the look and aspect of the work. Eventually, only photographs will remain of these temporary works.
Semi-permanent works
With growing concern over the state of our environment and the increasing violence of weather, artists are beginning to respond by incorporating environmental practices into the creation of their work. They're taking their work outside, not just into the natural world where it helps us to form a different relationship with nature, but outside that traditional notion of art.
Artists
The call for artists produced a number of high quality submissions, making the job of the selection committee both difficult and exciting. The committee was composed of arts professionals and representatives from the Stanley Park Ecology Society, the Community Arts Council of Vancouver, and Park Board staff. The committee met to review written submissions and documentation to create a shortlist. Shortlisted artists were then interviewed and the final artists selected.
The key criteria that were considered included:
Creativity
Ecological awareness
Feasibility of projects
Collaboration experience
Artistic excellence
Documentation
Documenting the Stanley Park Environmental Art Project is an important aspect of the overall project as the artworks change over time. Documenting artist, ecologist, and public response to the works is also critical to capturing the effect the works have on those who participate and engage with Stanley Park and the new artworks that have become part of its ecosystem.
Project partners and funders