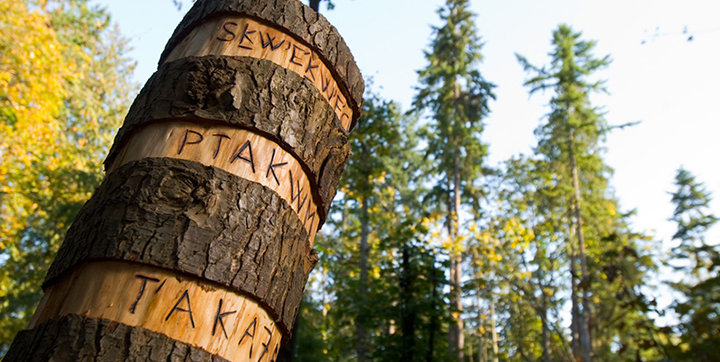 Stanley Park environmental art walk
This self-guided walk features the works of artists who have created works of art employing environmental art practices, using only natural materials and with sensitivity towards the plants and animals of the park. The walk begins at the Stanley Park shuttle stop, east of the round-about off Georgia Street.
If you'd like to read more about this project, consider reading this essay written by Kamala Todd titled (Un)divided . (2.3 MB)

Due to the nature of these artworks, some may no longer be in place due to natural decomposition.
A note on Stanley Park
The beautiful area now known as Stanley Park was once home to many Indigenous peoples and remains a culturally significant area for the local First Nations people today. Stanley Park is on the unceded territories of the Musqueam, Squamish and Tsleil-Waututh peoples. The park's villages were occupied for thousands of years by First Nations and newcomers before their eviction in the 20th century.
While you walk through the lush greenery, you might reflect on the many people who have entered this space for many purposes during its long history, and the many people who enjoy it today.
Route Statistics
| | |
| --- | --- |
| Distance | 8.18 km |
| Steps | 10721 |
| Elevation change | 38 m |
Unceded means that First Nations people did not give up land or legally sign it away to Britain or Canada. Vancouver and 95 percent of BC are on unceded First Nations land. In many parts of Canada, treaties were signed with First Nations that gave incoming settlers rights to much of the land, but in BC very few treaties were signed.
Want to learn more? Read First Peoples: A Guide for Newcomers (5.4 MB)
Route details
As you walk along the seawall and among the trees of Stanley Park you'll be treated to scenic views of downtown, the northshore mountains and an urban forest ecosystem like no other. Scattered throughout the park are works of art, both natural and man made. This walk invites you to take in the majesty of the natural while viewing some of the works of art created by local artists using only natural and organic materials. These pieces are all subject to the elements like sun, wind, and rain, or the activities of animals and insect. They'll naturally return to the earth over time so view them while you still can!
Accessibility
The route indicated for this walk has sections of paved walking paths and compacted gravel surface. This route is wheelchair accessible. All of Beaver Lake Trail and the trails leading to the two points of interest are virtually level, with some gradual slope on adjacent trails.
Points of interest