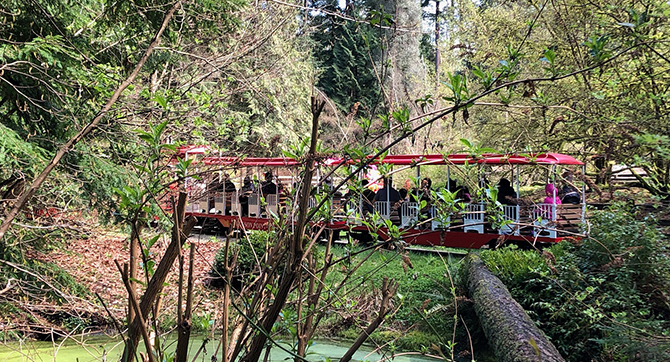 Ride the Stanley Park Train
Ghost Train cancelled for 2021
Out of an abundance of caution, we will not be moving forward with the Ghost Train event this year.
Given that the Ghost Train takes place in the evening, and Stanley Park is temporarily closed during these hours in response to coyote activity, we made the decision to cancel in the interest of public safety.
We're now refocusing our efforts and are in the planning process for the Bright Nights event this winter.
Have a safe and happy Halloween!
Welcoming over 200,000 visitors annually, the Stanley Park Railway is popular with locals and tourists alike. The 20 gauge, 2 km track winds through the forest over ground cleared by Typhoon Freda, the most devastating storm in Vancouver history which blew through in 1962.
Passengers can get a close-up look at a vintage engine and a quick photo before boarding for the 15-minute ride.
The jewel of the Stanley Park Railway's collection of old locomotives is a locally-built replica of Canadian Pacific Railway Engine #374, famous for pulling Canada's first transcontinental passenger train into Vancouver in the late 1880s.
Stanley Park Railway is adjacent to other popular destinations such as Lumberman's Arch, Malkin Bowl, and the Rose Garden.
Location
The Stanley Park Train is located on Pipeline Road in Stanley Park, via the West Georgia Street park entrance.
Take public transit , ride your bike, or walk.
Pay parking is available in parking lots and streets in Stanley Park.
Accessibility
The entire site is wheelchair accessible.
The train has a special carriage with room for two people in wheelchairs and seats for their companions.
We help passengers in need of assistance to board the train.
Stroller parking is also available.
Dogs at the Stanley Park Train
Dogs of any size are not permitted on the train out of consideration for our visitors with allergies or who are fearful of dogs.
Certified service animals are permitted.