Stanley Park picnic areas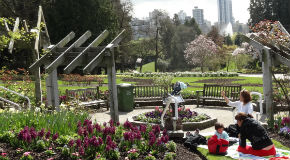 Take advantage of picnic areas, close to park attractions and activities, with views that can't be beat!
Many of the picnic tables located throughout the park are available on a first-come basis.
When you need a reservation or permit
If you want to have a picnic at a designated picnic site, you will need to make a reservation.
All designated picnic sites in Stanley Park are located underneath picnic shelters, and offer facilities like kitchens, access to water, and electricity.
If you have a group larger than 50 people, you will need a permit.