Titan Arum (Amorphophallus titanum)
Watch Uncle Fester's 2019 leaf time lapse
2023 growth chart
| Date | Height (inches) |
| --- | --- |
| August 14 | 5.5" |
| August 17 | 7" |
| August 21 | 8" |
| August 24 | 11" |
| August 28 | 12" |
| August 31 | 17" |
| September 6 | 26" |
| September 15 | 39" |
| September 20 | 46" |
Uncle Fester returns to Bloedel Conservatory
Uncle Fester, our Amorphophallus titanum, commonly known as titan arum or corpse flower, bloomed for the first time on July 15, 2018 and a second time on August 18, 2021.
Uncle Fester had been dormant since its last bloom in 2021, and is now returning to Bloedel Conservatory in its leaf state. This is the first time that Uncle Fester will be on display during this phase of its life cycle.
As a spike emerges from the corm after the dormant phase, it is almost impossible to tell if the titan arum will leaf or flower. The characteristics of the inflorescence (group of flowers) and leaf bud are very similar. On September 19, 2023, Bloedel staff were able to confirm that Uncle Fester would produce a leaf this year.
The titan arum life cycle
The titan arum (Amorphophallus titanum) also known as corpse flower, is native to rainforests on the island of Sumatra, Indonesia. It is classified as "endangered" on the International Union for Conservation of Nature's (IUCN) Red List of threatened plants. Fewer than 1,000 plants remain in the wild.
Most years, it produces a leaf, reaching up to 15 feet, to absorb energy from the sun. Once the corm has enough energy to produce a flower bud and attempt to reproduce, a visual event will unfold.
An enormous flower spike – or spadix – will emerge, wrapped with a frilly, modified leaf called a spathe. The Amorphophallus titanum is one of the largest and rarest flowering structures in the world.
When the titan is ready to bloom, the spathe unfolds, exposing small flowers that bloom in rings around its base that release scent molecules to signal their readiness for fertilization.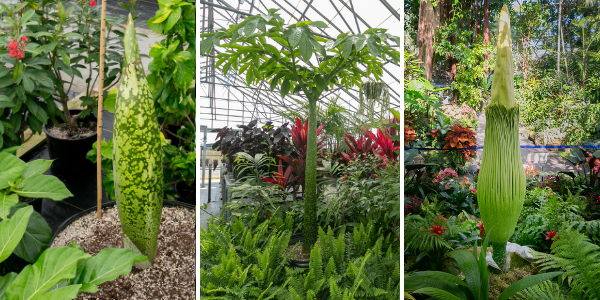 Buying tickets
Purchase your tickets online or at the Bloedel Conservatory admission desk.
Online ticket purchases for Bloedel Conservatory will be directed to our third-party ticketing provider, ShowPass. We are not liable for the security of the information shared with ShowPass.
Plan your visit
Book a ticket online in advance, or visit the admission desk to purchase your ticket upon arrival.
Review our hours of operation before your visit.
The pathway around the Conservatory is a one-way route.
Watch the time lapse of the corpse flower bloom at Bloedel in 2018  
Why it's known as a corpse flower
When the titan arum blooms, it emits a powerful stench similar to rancid or rotten meat. The scent and the deep-red colour of the open spathe, attracts pollinator insects that feed on dead animals.
The titan arum does not emit a scent during the leaf phase of its life cycle.
During full bloom, the spadix self-heats to approximately human body temperature, which helps disseminate these odor particles.