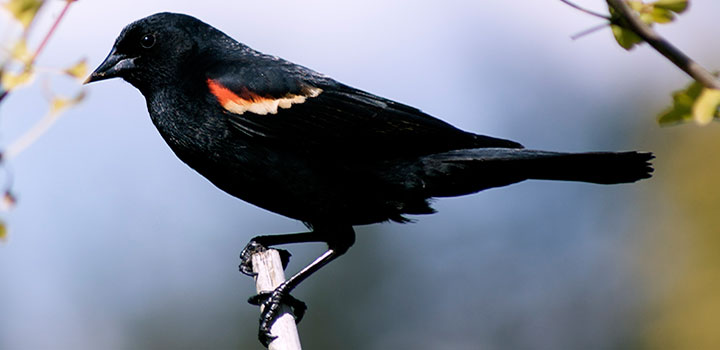 Vancouver Bird Strategy
The Vancouver Bird Strategy works to create conditions for native birds to thrive in Vancouver.
With this strategy, by 2020 Vancouver will be a world leader in supporting a rich and diverse group of native birds year-round that:
Are accessible to Vancouver residents in every neighbourhood and park in the city
Attract visitors from around the world
Implementing this strategy:
Has important economic, social, and environmental benefits
Gets us closer to our Greenest City goal to provide residents greater access to nature
Read about this initiative in-depth
Download the complete Vancouver Bird Strategy (2 MB)
Related initiatives
Why birds are important to Vancouver and our environment
Birds are important to our ecosystem. They provide pest control, pollination, and spread seeds. They also enrich our lives with their sound and beauty.
Vancouver and the Fraser River Delta are an important and major stop on the Pacific Flyway, a bird migration route that stretches from Alaska to South America along the Pacific Coast. The delta's shorelines and forests create rich habitats for migratory and native birds.
But because of human settlement, industry, and forestry, there has been a 35% decline in characteristic bird species in the Pacific Coast region of Canada since 1970. With over 250 species of resident, migratory, and overwintering birds regularly observed in Metro Vancouver, it is our responsibility to reduce the impact of urbanization on birds.
How we will create a city where native birds can thrive
The actions of the City, Park Board, residents, businesses, and institutions in Vancouver have a considerable impact on whether birds thrive within the city. To support urban bird populations, we will:
Support habitat by protecting, enhancing, and creating habitats for a diversity of native birds
Reduce threats to birds in the urban environment
Enhance access to nature for residents and visitors to Vancouver
Enhance awareness of the importance of birds and their needs to the community
Increase tourism by encouraging bird tourism and related economic development opportunities
Benefits to implementing the strategy
Implementing the Vancouver Bird Strategy has important economic, social, and environmental benefits for Vancouver.
Environmental benefits
Beyond the link between birds and people and local biodiversity, birds perform important services to our ecosystem, they:
Disperse seeds
Consume vast numbers of insects
Reduce the transmission of disease
Provide pest control and pollination services for horticulture, agriculture, and forestry
Economic benefits
Increasing interest in nature tourism offers new economic opportunities for Vancouver. Birding tourism contributes to local economies. In 2009, $36 billion was spent on birding tourism in the United States.
Social benefits
Birds like chatty Black-capped Chickadees, trilling Song Sparrows, soaring Bald Eagles, and colourful Rufous Hummingbirds animate our city. Their songs, flight, and colour connect us to nature, physically and emotionally.
Our partners
We partnered with the following organizations to develop the Vancouver Bird Strategy:
Bird Studies Canada
Environment Canada
Nature Vancouver
Pacific Wildlife Foundation
Stanley Park Ecology Society
Stewardship Centre for BC
Tourism Vancouver
UBC Greenest City Scholar Program
Vancouver Artists Studio Residencies in Parks
Vancouver Public Library
Vancouver School Board
Vancouver School Board
Recent developments with the Vancouver Bird Strategy
Bird Friendly Design Guidelines report approved by Council
May 16, 2017 - After two years of being applied on a voluntary basis, the Bird Friendly Design Guidelines are now standard guidelines. They will be applied with special consideration in the Cambie Corridor and City Facilities Planning and Development projects, and continue to provide leadership in the application of the guidelines.
Staff will return to Council with an update on the guidelines in two years.
Vancouver Bird Strategy approved by Council
January 21, 2015 – The Vancouver Bird Strategy and Bird-Friendly Design Guidelines and Bird-Friendly Landscape Operational Guidelines were approved by City Council. We'll now begin implementing the strategy – stay tuned!
Vancouver to host premier global event for bird scientist in 2018
January 15, 2015 – Vancouver has been selected to host the 27th International Ornithological Congress after submitting a winning bid to the organizing society. The congress runs from August 19-28, 2018, and is considered the most prestigious event for bird scientists around the world.
Thank you for your feedback
December 16, 2014 – Thank you to those who provided feedback on the Bird Friendly Design Guidelines through our online survey. Please check back for updates on this project.
Tell us what you think about the Vancouver Bird Strategy and Bird Friendly Design Guidelines proposal.
October 2, 2014 – The Vancouver Bird Strategy and the Bird Friendly Design Guidelines will be considered by City Council in early 2015, and we are looking for your feedback on these two documents before December 15, 2014.
The Bird Friendly guidelines will be used by developers, planners, designers, and public and private landowners.
Bird Friendly Design Guidelines exhibition opens at the Architectural Institute of BC
September 29, 2014 – View an exhibition on the proposed Bird Friendly Design Guidelines at the Architectural Institute of BC until October 30, 2014. The exhibition provides an overview of the guidelines through a series of information and photo panels. It will give you and those in the building development industry an opportunity to comment on the guidelines before the Vancouver Bird Strategy is considered by Vancouver City Council in early 2015.
City staff directed to develop a bird strategy for Vancouver
May 2013 – Vancouver City Council and the Park Board direct City staff to develop a bird strategy for Vancouver.
Work leading up to this strategy
In 2009, the City rolled out the Greenest City Action Plan to make Vancouver the greenest city in the world by 2020. One of the goals, access to nature, addresses the need to incorporate nature in the urban environment, including a diversity of birds. 
Since 2010, the City has partnered with the Vancouver Park Board, Nature Canada, Bird Studies Canada, and other community partners to celebrate World Migratory Bird Day and provide a week of public education programming about birds and bird habitat. World Migratory Bird Day is a United Nations-sponsored initiative that recognizes the importance of birds as key indicators to our environment's health.
In 2013 and 2014, Mayor Robertson proclaimed open Bird Week, a week-long series of events about birds. Bird Week 2014 included a highly publicized City Bird competition where 700,000 votes were cast for the official city bird for Bird Week 2015.