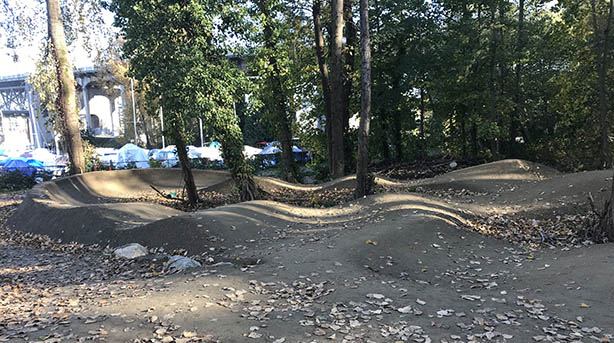 Vanier Park: Balancing environment and recreation
We're installing a new bike pump track in the Vanier Park forest in a manner that ensures eagles will continue to nesting in the park.
The work currently taking place includes:
A new bike pump track
A permanent bald eagle nesting pole located to minimize disturbances to the birds
Stewardship strategies for the forest include:

Invasive species removal
Garbage removal
Planting longer living native trees, shrubs, and groundcovers

Improved trails, signs, and environmental education
What's happening
Thank you for your feedback
Thank you to everyone who came out to our open house on May 30 and who completed our online survey. Your feedback will help inform the implementation of this initiative.
Timeline
Here is our progress and planned steps.
2010

Dirt jumps built in forest

2017

2017

May 30, 2019

Summer 2020

Completion of pump track construction and installation of new eagle nesting site

Fall 2020

Invasive species removals and garbage removal

December 2020

Installation of cedar split rail safety fence by Park Board Operations staff

Summer 2021

Proposed trail upgrades and signage