Walking, hiking, and geocaching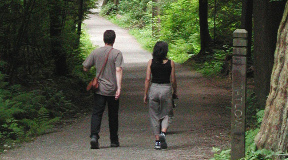 Vancouver consistently ranks as one of the world's most walkable cities. Many of our sidewalks and park trails are accessible to all ages and abilities.
The Vancouver Park Board offers walking, hiking, orienteering, and geocaching classes to all ages and skill levels. Take a lesson, register for a program, or join a drop-in class at a community centre near you.
What is geocaching?
Geocaching is like a high-tech treasure hunt. Using your ;GPS-equipped mobile phone or device, follow clues and coordinates to the geographic location of a cache that someone else has hidden. Geocaching is a great way to discover the city, exercise, and have fun.