Windsurfing, skimboarding, and standup paddling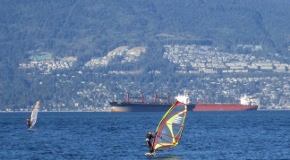 Learn to surf – right in the city. Rent a standup paddle board, launch a sailboard, jump on a skimboard, and – for a limited time – launch your kiteboard at Spanish Banks.
The Vancouver Park Board offers paddling and water sport classes to all ages and skill levels. Take a lesson, register for a program, or ask at a community centre near you.
For your safety
Boats and windsurfers must stay at least 300 m from swimming beaches.
Windsurf launching is only permitted from Locarno Beach (east of yellow buoys) and Kitsilano Beach (north of yellow buoys), straight out to 300 m offshore.
On a trial basis, kitesurfing is only permitted from Spanish Banks Extension at Spanish Banks Beach.