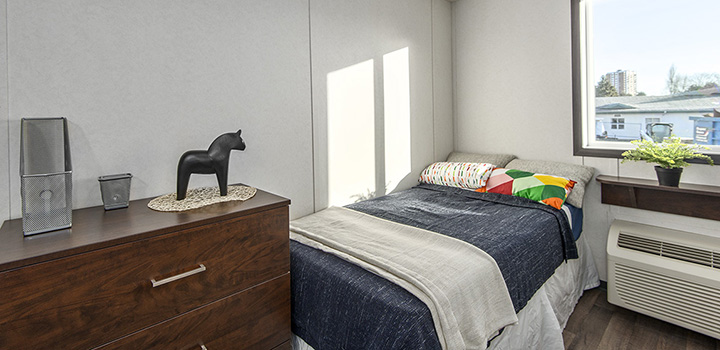 New Beginnings
5077 and 5095 Heather Street
24/7 phone
236-521-4360
Former address: 4949 Heather St
The temporary modular housing at 5077 and 5095 Heather St has two buildings with a total of 98 studio homes. One building has 46 homes and the second has 52 homes. All studio units are self-contained dwellings with a private bathroom and kitchen. A total of 12 homes are wheelchair accessible.
This is a supportive housing building. BC Housing selected Lu'ma Native Housing Society as the non-profit operator for this site. For the two buildings, priority is given to Indigenous residents experiencing homelessness. The focus on supporting Indigenous residents in these buildings is in line with the need identified through Vancouver's annual homeless count. It shows Indigenous people make up 40% of Vancouver's homeless population.
New Beginnings is the English translation of Lu'ma, a Coast Salish word. Lu'ma has provided new beginnings to thousands of people, both Indigenous and non-Indigenous, in its years of operation and it's hoped the new buildings will provide just that for its new tenants.
The temporary modular housing is separate from the upcoming rezoning and permanent development of the Heather Lands site.