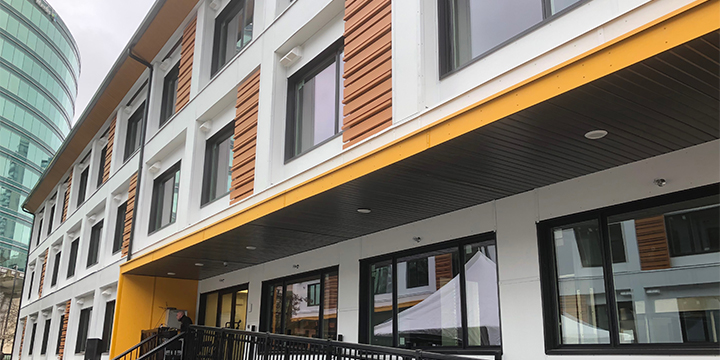 Larwill Place
24/7 phone for operator MPA Society
604-558-7600
610 and 620 Cambie St
Former address: 688 Cambie St
The temporary modular housing at 610 and 620 Cambie St has two buildings with a total of 98 studio homes. All homes are self-contained dwellings with a private bathroom and kitchen. A total of 12 homes are wheelchair accessible.
This is a supportive housing building. BC Housing selected MPA Society as the non-profit operator for this site.
The temporary modular housing will not delay or impede the delivery of a new Vancouver Art Gallery.
The buildings are named Larwill Place, after Al Larwill. He was the original caretaker of the Cambie Grounds, a park formerly located on the site in the late 1800s and early 1900s.
Although a squatter himself, Larwill cared for the grounds and the athletes who competed at the park. His shack was the living room for the grounds and any person playing could enter his home, which was never locked, and leave their belongings for safekeeping.
At Larwill Place, MPA will continue to keep the doors open to welcome and care for the community.