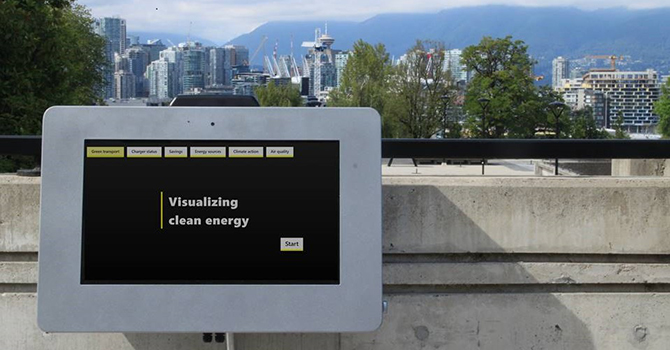 Data points
An interactive data visualization of the interrelated systems connected to the electrical vehicle (EV) charging network
As part of the response to the Climate Emergency Action Plan, we've worked to increase our electric vehicle (EV) charging network. With the support of National Resources Canada (NRCan), these new EV charging stations also included within their scope a new public art piece for Vancouver.
The first Engineering Artist-In-Residence, Germaine Koh, developed an art piece to be placed alongside the new EV charging stations at City Hall. The piece, titled Data Points, celebrates the interconnected nature of all big data and its relationship to the electric vehicle (EV) charging network.
Features
The display features engaging, real-time data visualizations of both the charging stations and related City systems. The program showcases the data as well as the advanced technologies that are used to access the data.
It will serve as a public portal to view the changing conditions of multiple complex systems associated with increased EV use. The monitor cycles through half a dozen visualizations and allows the user to search further into areas of interest.
The project will be launched in late 2020 at City Hall.