Human services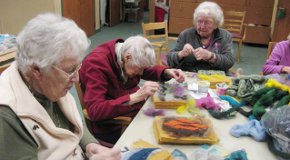 Our Tenant and Disaster Assistance programs already help seniors maintain or find new housing after fires.
In 2013, we awarded $500,000 in grants to organizations that help vulnerable seniors continue to live at home, feel less isolated, prepare healthy food, and practice life-long learning.
We will collaborate more with Vancouver Coastal Health on seniors issues, and create new partnerships for more dementia-friendly adult programs.
Implemented actions underway
Help seniors maintain, find, or relocate their home with the Tenant Assistance and Disaster Assistance programs, a City of Vancouver service.
Provide meeting spaces in all community centres at low or no cost to dementia- and caregiver-support groups, when possible.
Provide space in all community centres for informational workshops, such as "Understanding Dementia," offered through the Alzheimer Society of BC and VCH's First Link program.
Provide community centre programs to connect seniors to each other and to opportunities for dialogue and self-expression.

For example, the Arts and Health project holds weekly arts workshops for seniors. Recently a display of the work completed was displayed June 9, 2015 during seniors week.

Provide free locations for seniors to visit and socialize at all community centres.
Offer social service grants to support a large range of organizations that serve at-risk and vulnerable seniors, including residents with dementia, to enhance their safety, security, and ability to live independently.

In 2015, Community Services grant recipients indicated that 25 percent of the people they serve are seniors. This translates to $551,400 for senior-specific service programs and a total of $1,222,116 in grants that support seniors in some way.

Make library branch meeting rooms available free of charge to not-for-profit groups where possible.
Coordinate with other funders to improve support to seniors services.
Seniors Funders table continues to meet. Seniors funding has been more challenging recently because in 2014, due to low fundraising revenue the United Way of the Lower Mainland made a decision not to renew funding for 31 seniors programs providing a range of services in the Lower Mainland including 13 in the City of Vancouver. The total amount of funding that was not renewed was approximately $1.3 million.
Enhance collaboration and coordination with Vancouver Coastal Health through a new joint COV-VCH Memorandum of Understanding and Healthy City Steering Committee on seniors issues.
Upcoming actions
Offer training on dementia for City grant recipients working with seniors.
Develop partnerships to offer more dementia-friendly, caregiver-inclusive adult programs and resources, including multilingual and multicultural programs, in our network of library branches. Examples of the work for 2015 Include:

VPL staff members attended Dementia Friends workshops piloted at Mount Pleasant Neighbourhood House and Kitsilano Neighbourhood house. Library staff were asked to prepare a resource list for workshop which was available at the workshop and distributed electronically. Available through VPL website.
VPL staff working with Seniors Working Group/Westside United Churches, other community organizations and Alzheimer's Society to coordinate events, some to be held in branch libraries.
VPL liaison to City of Vancouver Seniors Advisory committee (SAC) updating committee on VPL activities to ensure allignment with SAC efforts.
VPL staff member prepared resource list "Living the Risk: A Paradigm Shift for Aging Well" for talk by BC Senior's Advocate, Isobel Mackenzie. Available through VPL website.