International Women's Day 2021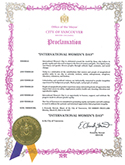 Signed proclamation (441 KB)
​​​​​​​Download the full stories and slideshow (7 MB)
Last year, with help from the Museum of Vancouver, we curated a photo exhibition featuring over 30 engaged residents and organizations that have been instrumental in advancing gender equity within our city.
About the museum slideshow
This slideshow aims to honour the leadership and contributions that women and people of marginalized genders give to Vancouver as activists, workers, artists, entrepreneurs, caregivers, educators, and volunteers.
It also aims to highlight the work of Indigenous people, Black people, and people of colour, whose experiences of gender inequities are intrinsically connected to colonization and racialized violence.
As we reflect on progress made, we encourage everyone to celebrate the courage and determination of our local change makers, both past and present. We will continue to grow this list in the future and welcome your suggestions below.
Preview the slideshow below, and read their full stories and slideshow . (7 MB)
International Women's Day, March 8, 2021
By City of Vancouver
Celebrating International Women's Day in Vancouver

By City of Vancouver

"Until all of us have made it, none of us have made it." - Rosemary Brown March 8 is International Women's Day, a global celebration of gender equity and those who seek to improve the lives of women and girls, Two Spirit, trans, non-binary and gender diverse peoples through cultural, legal, economic, and social change. This year, we honour the contributions of our local change makers, from Vancouver's past and present, whose courage and commitment to gender equity are an inspiration for our future.

Ch'ich'iyúy Elxwikn (The Twin Sisters)

By City of Vancouver

Since Time Immemorial - What settlers and newcomers may know as "The Lions" are known to the Host Nations as Ch'ich'iyúy Elxwikn - "The Twin Sisters" – reminders of the values and kindness of Indigenous women. We recognize the brilliance of the women who call this place home didn't begin with Vancouver's incorporation in 1886, nor did equality first arrive when women won the right to vote or were first elected to City Council. Before settlers arrived, there was equality here. Indigenous women were leaders, land-owners, and matriarchs. Since time immemorial, the women and Two Spirit people of the Musqueam, Squamish, and Tsleil-Waututh Nations have built their communities, raised their children and grandchildren, and told their own stories on this land.

Sophie

By City of Vancouver

This painting, Sophie with Berry Basket, Stanley Park by Margaret Wake is from the collection at the Museum of Vancouver. Sophie is seated wearing a berry basket with a woven tumpline. The basket features a stone hammer design which is associated with the Mount Currie and Upper Squamish areas. Based on this, it is possible Sophie was from the Squamish Nation. This painting is loaded with symbolism. Sophie is pictured in Stanley Park, the site of a village inhabited by Indigenous peoples for thousands of years before settlers arrived. The limited information we have access to about Sophie speaks to the collective erasure of Indigenous women in the canon of women's rights. Our ability to determine that Sophie may have been from the Squamish Nation is based on the basket design, the weaving of which would have been done by a woman, speaks to the role of Indigenous women – and all women – in our connection to our communities.

​​​​​​​Suggest an addition to the slideshow
Beyond March 8
While International Women's Day is a global occasion to celebrate women and people of marginalized genders, the work to achieve gender equity goes on throughout the year.
Colonial and patriarchal structures continue to oppress racialized peoples and people of marginalized genders. These systems impact people's ability to access safety, employment, justice, health care, housing, education, and reproductive rights.
We are committed to promoting equity and justice, and continue to work to address these systemic and structural oppressions that perpetuate inequities.
Learn more about the steps we're taking in advancing gender equity and anti-racism.​​​​​​​