Physical built environment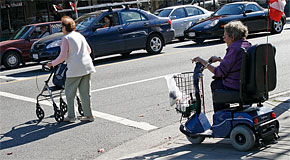 The City is making streets and sidewalks more accessible, and reviewing accessibility in areas seniors live or gather. We will also plan for more benches and bus shelters in these areas.
We are reviewing bylaws to improve accessibility in the home, so seniors can age in place, and working to secure funding for a seniors centre in southeast Vancouver.
Completed
Revise the Building Bylaw to improve accessibility and allow more seniors to age in place.

On September 24, 2013, Council passed a new edition of the Building Bylaw that includes new accessibility requirements towards more adaptable housing in order to improve accessibility and ability to age in place.
Implemented actions underway
Maintain and improve streets and sidewalks to increase accessibility, with no-lip curbs and curb cuts.
. Install countdown timers at key intersections and adjust crosswalk times to accommodate slower pedestrians.

In 2014, countdown timers were installed at 91 locations, 58 signals were adjusted to accommodate slower walk speeds, 11 new traffic signals were installed
From January 1 to June 30, 2015, countdown timers have been installed at 56 locations, 31 signals have been adjusted to accommodate slower walk speeds
Notably, at all new traffic signals and those that undergo complete rehabilitation, it is now part of our standard to install countdown timers and to accommodate slower walk speeds.
City-wide Totals:

Number of signals: 868
Number of signals with countdown timers: 294 (34%)
Number of signals for slower walk speeds: 111 (13%)

Partner with other levels of government, non-profit housing providers, and the development industry, to:

Expand the availability of supportive and affordable housing
Encourage new rental housing construction
Expand the continuum of housing options available to seniors
Expand new accessible housing options

In 2014
• 439 units of supportive housing were opened
• The City approved an additional 630 units of social housing

Address age-friendly actions in all active community planning. This includes:

Marpole Community Plan (complete)
West End Community Plan (complete)
Downtown Eastside Local Area Plan (complete)
Grandview-Woodlands Community Plan (complete)

Give consideration to age-friendly amenities in future community planning. •The West End, Marpole, DTES, Norquay, and Oakridge plans include age-friendly initiatives. For example, the re-location and renewing social facilities, such as seniors' centres, and ensuring dedicated multipurpose space.

Staff are currently working on the implementation of seniors programming and program space as part of Public Benefit Strategies in recently approved community plans and development conditions.

Consider legibility of public spaces (ease of navigation and easily-recognizable features) and building accessibility in design guidelines. On-going consideration and implementation takes place through public realm planning, streetscape committee implementation and development conditions.
Capital funding for the development of a seniors' centre in southeast Vancouver has been secured. Building plans being developed.
Identify key locations for bus shelters for seniors, in partnership with Planning staff during upcoming planning processes. Prioritize providing bus shelters in these locations. Factors considered include:

Boarding numbers
Available S/W space.
Knowledge of Area eg. hospital/ seniors centers etc.
Reasons from public

Review transportation infrastructure in areas where seniors live or congregate (such as the presence of curb ramps, crosswalks, traffic signals, lighting). •All signals within 500 m of a seniors' facility have been identified

As of April, 2014, 29 traffic signals have been adjusted for slower pedestrians
Proximity to seniors' facilities is now taken into consideration when prioritizing locations for new curb ramps and traffic signals
In 2015, 7 new marked crosswalks were installed
In 2014, LED lighting was installed at 7 intersections

Review transportation infrastructure in areas where seniors live or congregate (such as the presence of curb ramps, crosswalks, traffic signals, lighting).

All signals within 500 m of a seniors' facility have been identified
As of April, 2014, 29 traffic signals have been adjusted for slower pedestrians
Proximity to seniors' facilities is now taken into consideration when prioritizing locations for new curb ramps and traffic signals
Upcoming actions
Encourage the donation of benches in areas with high populations of seniors