Great Beginnings projects that promote community living
The Oppenheimer Park Commemorative Project is a celebration of the rich cultural history of this park in the downtown eastside of Vancouver.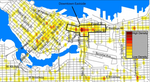 A 2009 study by researchers at Simon Fraser University and the University of British Columbia found that a small strip in the Downtown Eastside (DTES) was the most dangerous place for pedestrians in Vancouver and that 10% of all pedestrian injuries happen in this neighbourhood. Great Beginnings engaged with DTES residents to make the community safer for pedestrians.
Three days from 11:00am to 8:00pm of the best food and entertainment in the Downtown Eastside provided for homeless and under-housed residents at Oppenheimer Park.