Training and awareness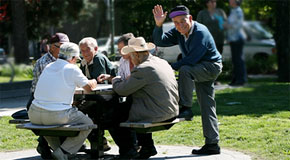 The City will enhance employee training for serving and helping vulnerable populations.
We will raise awareness about seniors health and overcoming the stigma of dementia by holding public workshops and proclaiming January as Alzheimer's Awareness Month.
Finally, we will develop guidelines on designing information materials for seniors.
Completed actions
Formally recognize Alzheimer's Awareness Month in January 2014.
Implemented actions underway
Design the City website to W3C guidelines for accessibility.
Slides have been introduced into the CityLearn Customer Service training program, supplemented by discussion on issues and strategies for dealing with a variety of vulnerable customers. Focus is on dealing with sex trade workers, homeless, seniors, customers whose second language is English, mentally challenged and others who may be suffering from Alzheimers/Dementia. Focus is on providing these customers with Respect, Responsiveness, Accurate Information presented in a way that can be understood, Focus on Problem Solving, and Exploring Options for service.
A training and development committee has been created. Training needs and requirements will be looked at to include this type of training.
Host periodic public information events, such as "Understanding Dementia", at all community centres.
Train and create protocols for Vancouver Police on working with vulnerable populations, including seniors and persons with cognitive disabilities.
Include resource materials on dementia in the library collection.
Incorporate specific content on vulnerable populations into the City's customer service and respectful workplace training for front-line staff, and distribute materials about dementia.

Materials are distributed and discussed as part of the class agenda. It includes providing customer service to a number of vulnerable customer's. Handouts are provided on: What is Alzheimer's Disease - Alzheimer's Society of B.C.; Vascular Dementia & Other Dementias - Alzheimer Society of Canada.
Information provided during the May 2012 Council motion requiring the City to "enhance training and information sharing for frontline City staff so that they are better able to respond to the needs of all citizens - especially those working with at risk citizens."

Train Vancouver Fire and Rescue staff to recognize and support citizens dealing with dementia and other forms of mental health disorientation, as an implementation partner of the Age-friendly Action Plan, through the Healthy City Strategy. Looking to include Dementia training and materials when interacting with schools and neighbourhood houses.
Recently started actions
Source and coordinate the distribution of informational materials about dementia for all staff who receive CityLearn's Exceptional Customer Service training module.
Host a series of public dialogues or informational events on healthy eating practices and resources for seniors, in library branches.

In partnership with CoV Seniors Advisory Committee, the VPL organized and hosted a National Seniors Day fair for seniors with over 30 community groups. Alzheimer Society of B.C participated along with other groups offering information and resources on dementia. 700+ in attendance
Preparation is underway for Alzheimer's awareness month in January for programming in branches, Central Library and in the community including a book club session with Cathie Borrie, author of The Long Goodbye, other book clubs in branches and care facilities, and in alternate formats.
VPL Accessible service in preliminary discussion with care facilities to plan dementia friendly related programs.
Upcoming actions
Develop guidelines for design of information and outreach materials targeted towards seniors, in line with corporate standards and industry best practice.
Seek the Corporate Management Team's (CMT) direction for all City departments to:

Adopt the design guidelines for information and outreach materials with seniors
Work with Corporate Communications to design and produce project-specific materials

Distribute awareness information on dementia to businesses through business improvement associations (BIAs) and other groups.
Deliver an information session on dementia for City Council and the Park Board.
Coordinate two pilot information sessions for staff about better serving seniors and people with dementia (delivered by Alzheimer Society of BC).

First Pilot held March 2015 open to Housing, Culture, and Social Policy staffs
Second Pilot: Held May 2015 with the Interdepartmental Age-Friendly Action Plan Staff Team. Staff to role out additional training late summer / fall accross other departments.

Host a public dialogue on dementia and vulnerable seniors, including multicultural seniors, to share information and help to overcome the stigma of diagnosis.
Distribute multilingual and culturally-sensitive public education materials about dementia in a variety of formats through library branches and programs.