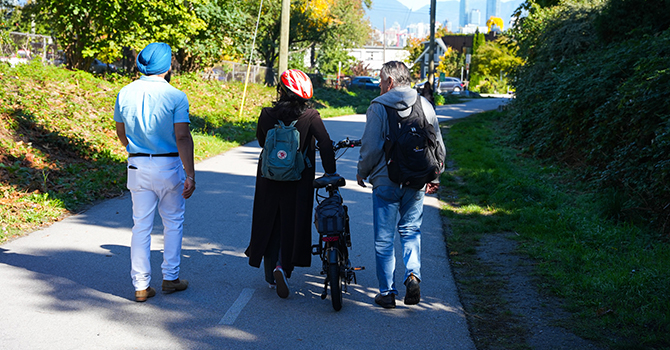 Arbutus Greenway
In 2018, Council approved the Arbutus Greenway Design Vision and Implementation Strategy , one of several walking and biking paths we're developing to encourage people to use active and sustainable modes of transportation. (46 MB)
The project, which started in 2016, currently has a temporary asphalt path and attracts thousands of people every day, providing people an opportunity to walk, bike, roll from False Creek to the Fraser River. In light of its success, in 2018, Council endorsed enhancing the path to give people of all ages and abilities places to gather and rest and enjoy the surrounding landscape.
Project area
What's happening

Arbutus Greenway improvements

We're focused on urgent needs along the Arbutus Greenway, such as making key safety improvements and continuing to improve network connections to the greenway, and coordinating with the new Arbutus SkyTrain Station and adjacent development.

Currently, we are focused on making improvements at W 41st Avenue and King Edward Avenue.