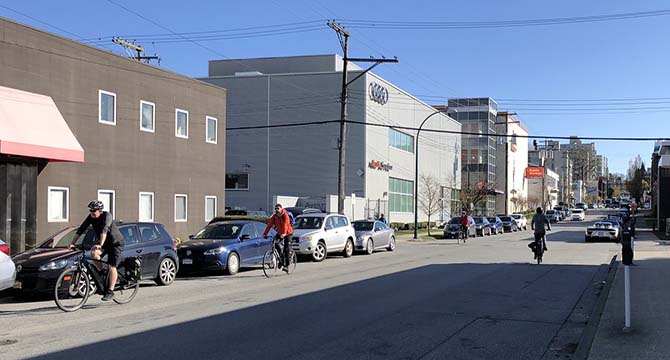 Pine St and W 1st Ave - Arbutus to Seaside
We're working to improve cycling connections between the Arbutus Greenway and the Seaside Greenway (seawall).
Arbutus Greenway is an 8.8 kilometre active travel route stretching from near Fir St and W 6th Ave in the north, to the Fraser River in the south. The greenway provides a safe and comfortable cycling route for people of all ages and abilities (AAA).
Seaside Greenway (seawall) is a 28 kilometre route along Vancouver's coastline. Most of the route has dedicated bike lanes that are separate from cars, making it safe for people of all ages and abilities (AAA).
What's happening
Street change proposals
A series of on-street changes are proposed for:
Pine St, between W 6th Ave and W 1st Ave
W 1st Ave, from Pine St to Creekside Dr
Our goal is to make a connection that is safe and comfortable for people of all ages and abilities while accommodating access and loading for nearby businesses and residents.
Key changes along the Pine St and W 1st Ave link
Installation of protected two-way bike lane along the route
Improved accessibility for people walking at W 1st Ave and Fir St with new ramps
Three blocks on Pine St to become one-way for vehicles

W 3rd Ave and W 4th Ave (northbound only)
W 4th Ave and W 5th Ave (southbound only)
W 5th Ave and Arbutus Greenway (northbound only)

Two-way travel for vehicles retained on all other blocks
Approximately half of all on-street parking spaces maintained along the route

Existing 'permit only' parking to be relocated in close proximity
New loading zones provided to support businesses

New temporary public space on Pine St between W 5th Ave and W 6th Ave
Get in touch
We hosted two virtual information sessions on May 17, to share the design details and answer questions. Thank you to everyone who attended and provided comments and feedback. We are now reviewing this feedback and the design prior to implementation.
Why we're doing this
Approved by City Council in 2018, the Pine St and W 1st Ave link is a proposed cycling connection between the Arbutus Greenway and the Seaside Greenway seawall. The goal is to:
Address a seven-block gap between the Arbutus and the Seaside greenway
Provide an active transportation connection that meets our AAA cycling design guideline, making our cycling facilities safe, comfortable, and equitable for all users
How this project may affect you
Contact us
---
Arbutus to Seaside timeline
July 2018

Planning

Council approves the Arbutus Greenway Implementation Strategy which identifies creating an active transportation link between the Arbutus Greenway and Seaside Greenway (seaside) along Pine St and W 1st Ave

Fall 2021

Early stakeholder meetings - Conceptual design

Consulted with businesses to learn how they use Pine St and how vehicles and bikes circulate

Identified how changes can accommodate access, egress, and loading requirements while meeting our AAA cycling standards

Early 2022

Community conversations - Detailed design

Update residents and businesses on the proposed design with door knocking, email notifications, notification letter drop offs, and online information sessions

Finalize design based on community conversations

Summer 2022

Implementation

Notify community of intended changes

Construction for Pine St to W 1st Ave and Pine St to Creekside Dr route interim materials

Monitoring changes and adjusting pilot measures as needed

2023 and beyond

Permanent implementation

Permanent construction where changes are successful