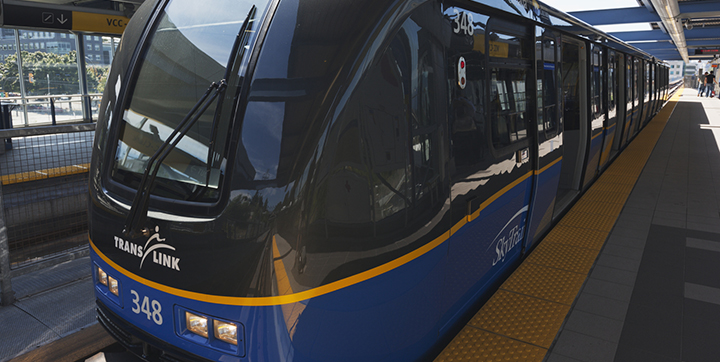 Millennium Line UBC Extension
Rapid transit along the Broadway Corridor to UBC has been in regional and local plans for decades.
In 2014, the Mayors' Council on Regional Transportation identified rapid transit to UBC as a regional priority to be delivered in two phases:
Phase one is the Broadway Subway Project , a Millennium Line SkyTrain extension between VCC-Clark Station and Arbutus Street, currently under construction.
Phase two between Arbutus and UBC was identified, but needed further analysis to determine the transit technology and alignment.
SkyTrain endorsed for rapid transit
On January 30, 2019, Vancouver City Council was presented with the Rail to UBC Rapid Transit Study and subsequently endorsed a SkyTrain extension from Arbutus St to UBC. (104 KB)
On February 15, 2019, the Mayors' Council endorsed SkyTrain as the preferred technology for rapid transit between Arbutus St and UBC. SkyTrain was determined to be the only technology that could accommodate the long-term forecasted ridership, and allow for future expansion along this transportation corridor.
Extending rapid transit adds to regional affordability through reduced transportation costs and better access to more affordable housing choices.
Working with our partners
In June 2018, funding for additional analysis on a Millennium Line SkyTrain extension to UBC was allocated in TransLink's Phase 2 Investment Plan . TransLink is currently analyzing potential SkyTrain locations between Arbutus and UBC. This includes vertical and horizontal alignment options. The results of this work is anticipated to be released in spring. (3 MB)
Public engagement on a potential Millennium Line UBC Extension was conducted by TransLink from April 19 to May 14, 2021. The engagement summary report compiles feedback from both self-selected participates as well as the general population of Metro Vancouver, and demonstrates a high level of regional public support for the project. (4.8 MB)
A memorandum of understanding
In late 2019, the City of Vancouver, UBC, and the Musqueam, Squamish, and Tsleil-Waututh Development Corporation (MST-DC) signed a historic memorandum of understanding (MOU) jointly advocating for federal, provincial, and regional support and funding to extend the SkyTrain to UBC.
This is the first MOU in Canada that brings together an academic institution, a First Nations development corporation, and a municipality to seek investment in major transit infrastructure.
We continue to work with partners to advance the preliminary design of the SkyTrain extension with the goal of securing funding approval for this essential project.
Learn more about Broadway Subway extension to UBC from our partners TransLink

and The University of British Columbia