Bicycle parking and air pumps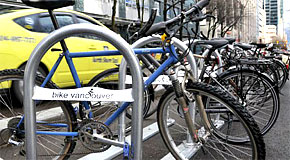 We install convenient bike parking throughout Vancouver.
Our bike racks keep your bike out of the way of people walking and provide greater security than locking your bicycle to sign posts.
Request bike parking
Submit a request online for new bike parking.
Types of bike parking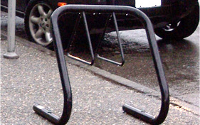 Traditional bike racks
Bike racks provide quick places to lock your bicycle. The City installs several around Vancouver. Businesses may install bike racks to support their customers. Free public bicycle racks are also available at downtown EasyPark lots.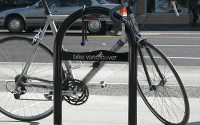 U-shaped bike racks
These racks lock up to two bikes at a time and use less sidewalk space than traditional racks. U-shaped bike racks are accessible and attractive, eliminate clutter from sidewalks, and reduce hazards to people walking on sidewalks.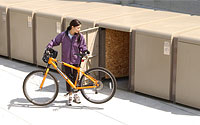 Bike lockers provided by TransLink
TransLink provides bike lockers at many SkyTrain stations and Park and Ride locations for monthly rental.
For information about rates visit TransLink's website or send your questions to bikelockers@translink.ca.