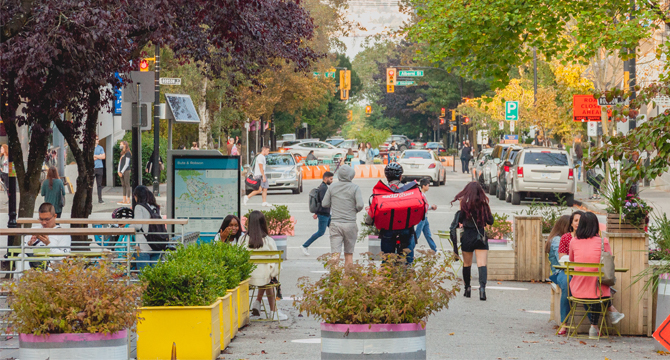 Bute Greenway
Did you know?
Greenways are car-lite to car-free AAA active transportation corridors, that serve as high-quality continuous public spaces.
We're exploring ideas to improve and prioritize Bute Street for walking, rolling, and cycling for people of all ages and abilities, while providing a variety of public spaces to play, sit, relax, socialize, enjoy food or drink, or host community events.
As part of this project, we will also advance a conceptual design for a permanent Bute-Robson Plaza.
What's happening

Help us build a shore-to-shore connection

In our first phase of engagement (fall/winter 2021), we asked the community to contribute their big ideas for a future greenway on Bute St and provide input on the draft project goals. We also presented a concept design for a permanent Bute-Robson Plaza for feedback.

In 2022, we are working towards the next phase of engagement based on what we heard.

Review the Bute Greenway information guide (17 MB)

Private residential buildings are not part of the project scope.
Project location
Bute Street is an important 1.5 kilometre north-south route through the downtown peninsula. It connects Burrard Inlet to False Creek through various neighbourhoods like the West End, the Central Business District, and Coal Harbour.
It also links popular destinations and community spaces, such as:
Sunset Beach Park
Harbour Green Park
Nelson Park
Jim Deva Plaza
Bute-Robson Plaza
---
Timeline
Fall 2021

Phase one

Review greenway goals, share big ideas, and how you use Bute Street
Review conceptual designs for Bute-Robson Plaza

Spring/summer 2022

Develop conceptual design options
Refine design for a permanent Bute-Robson Plaza

Late 2022

Phase two

Present proposed design for a permanent Bute Robson Plaza
Invite feedback from the community on conceptual design options

Early2023

Phase three

Detailed review of recommended design
Share feedback to improve design

2023 and beyond implementation

Initial construction phases expected to focus on Bute-Robson Plaza
Phased implementation to minimize impacts
Contact us