Central Valley Greenway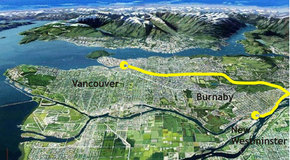 The Central Valley Greenway (CVG) is a 25 km regional greenway linking Vancouver, Burnaby, and New Westminster. It is a combination of off-road paths and on-street routes.
The CVG follows the Expo and Millennium SkyTrain lines, running from False Creek through Burnaby, and along a shallow valley south to the Fraser River in New Westminster.
Destinations
Burnaby Lake Regional Park
New Westminster Quay
Telus World of Science
False Creek Seawall
There are also dozens of parks, community centres, swimming pools, and libraries along the route.
The Central Valley Greenway also links to the Millennium and Expo SkyTrain stations.
Background
The Central Valley Greenway is one of the 14 greenways identified in the 1195 Vancouver Greenways Plan, and is an integral part of the Greater Vancouver Regional Greenway Vision. Construction of the greenway took place over two phases and was completed in 2009.
On 24 February 2004 City Council approved $4.63 million for the Federal Government's Urban Transportation Showcase Program, which included the design of the CVG.
Phase 1
Phase 1 of the Greenway was developed and constructed in partnership with the Millennium SkyTrain line.
Construction started on Grandview Highway North on the north side of Grandview Cut between Commercial Dr and Slocan St. It was completed in 2002 and inlcudes a series of bike streets closed to vehicle traffic.
Phase 2
In 2009, the City of Vancouver, Burnaby, and New Westminster completed construction of Phase 2 of the CVG which links the three municipalities across Metro Vancouver.
It serves both regional travel and trips within neighbourhoods. Scenic, direct, and comfortable, most parts of the route are seperated from vehicle traffic and are accessible for people of all ages to walk, cycle, and connect to transit.
Additionally, the greenway connects a number of neighbourhoods to major employment centres, two town centres, 10 SkyTrain stations, 16 bike routes, and 11 regional greenways.