Use of commercial loading zones and lanes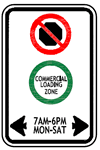 Any lane that is next to a commercial property, such as a store, hotel, restaurant, or parking lot, is classified as a commercial loading zone.
Under section 21.5 of Street and Traffic Bylaw 2849, it is illegal to stop in a commercial loading zone unless you have a commercial vehicle permit.
Exception to the rule
The exception to the no stopping rule is the area within the Burrard St, Coal Harbour, Stanley Park, and English Bay boundary.
Unmarked commercial lanes
Do not assume you can park in a lane because it is not marked with a commercial loading zone sign. Signs are not required in busy business areas, including:
Downtown
Broadway
West 4th Avenue
Kingsway
Kerrisdale
South Granville
Commercial vehicle privileges
Licensed commercial vehicles can:
Stop in commercial loading zones and commercial lanes for up to 30 minutes to load or unload materials
Stop in passenger zones for up to 30 minutes (until noon only) to load or unload materials
Use a metered space for free on any day up to 10:30am (except if parking or stopping is prohibited)
All drivers, whether in commercial vehicles or not, must obey No Stopping and No Parking signs, and other rules on leaving clearances at corners, lane intersections, and driveways.