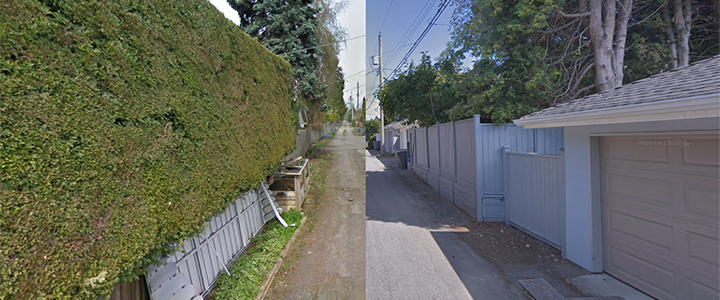 Local Improvement Program
Property owners may request to construct improvements in their local area through the Local Improvements Program.
The program is administered through a petition process and the cost share ratios by project type are defined in the Local Improvement Procedures By-law.
| Project type | City cost share | Property-owner cost share |
| --- | --- | --- |
| Lane paving | 30% | 70% |
| Lane lighting | 0% | 100% |
| Traffic circles | 0% | 100% |
| Corner bulges | 0% | 100% |
| Lane speed humps | 0% | 100% |

Final City cost share for lane paving and lane lighting projects are determined as per the Local Improvement Procedures By-law.
Funding for the program
We have limited funding available for local improvement projects under the current Capital Plan.
At this time we are accepting requests for:
Lane paving
Lane lighting
Lane speed humps

Requests for other types of improvements such as pavement and curbs, sidewalks, and street lights are not being considered at this time.
How a local improvement proceeds
Related documents
The Vancouver Charter and the Local Improvement Procedures Bylaw outline the requirements that must be met in order for various local improvement projects to be constructed.