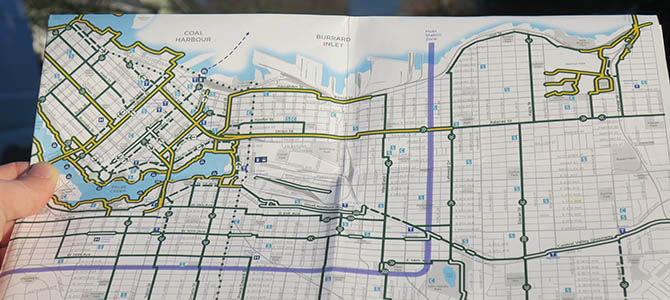 Cycling routes and maps
Biking in our region
If you ride your bike into or out of Vancouver, view cycling maps from TransLink , the regional transportation agency that operates Vancouver's transit system.
Plan your route with our cycling map
Our annual cycling map details all bikeways and greenways in the city. It uses different line styles to highlight the most comfortable routes for people of all ages and abilities. It also provides important tips and resources to help keep you safe and happy while riding.
Download the cycling map (7 MB)
Pick-up locations
Engineering Services – #320 - 507 West Broadway (Monday to Friday, 8:30am to 4:45pm)
Vancouver Public Library branches
Vancouver community centres
Granville Island Bicycle Valet, near Railspur Alley at Old Bridge St (May 21 to September 5, 10:30am to 7:30pm)
Cycle shops, schools, cycling clubs, and community groups
Order 50 or more of our 2022 cycling map:
Allow six weeks to process your order
You will be contacted when your order is ready and have 2 weeks to pick it up.
Pick up location, Engineering Services (#320 - 507 West Broadway)
All fields are required unless marked optional.
Plan your cycling trip
Find out about Vancouver's protected bike lanes – how they work, where they are, and how often they get used.
We install bike parking throughout Vancouver. Learn about our types of bike parking and how to request new bike parking.
Find out how to set up and use a secure bicycle parking service to encourage concert-goers, sports fans, and others to ride their bike to festivals and community events.