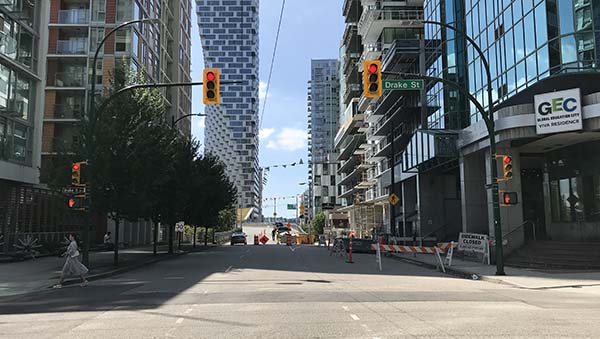 Drake Street upgrades
We're carrying out phased upgrades to Drake Street from Hornby Street to Pacific Boulevard.
This first phase of work on Drake Street from Hornby Street to Howe Street includes:
Electrical upgrades
Street repair and restoration
This work is in coordination with the Granville Connector. After completion in 2024, Drake Street will become a one-way street for eastbound traffic only from Burrard Street to Hamilton Street. The block between Hamilton and Pacific Boulevard will remain two way with westbound traffic directed to turn right onto Hamilton St.
What's happening

Early works now complete

Drake Street is temporarily one-way eastbound for motor vehicles between Hornby Street and Howe Street until the work is completed in 2024.
---
Details
Location
Duration
Construction is scheduled in two phases from late summer 2021 to 2024:
Early works: Drake St from Hornby St to Howe St - completed October 2022
Full works: Drake St from Hornby St and Howe St to Pacific Boulevard
As an example of coordinated planning, this work schedule will reduce total completion time while maintaining flexibility for traffic flow during construction at the north end of the Granville Street Bridge.
Work hours
Monday to Friday: 7am to 5pm, extended hours as needed
Weekends: as needed
Contact us
Do Nguyen
Community Liaison
604-673-8458