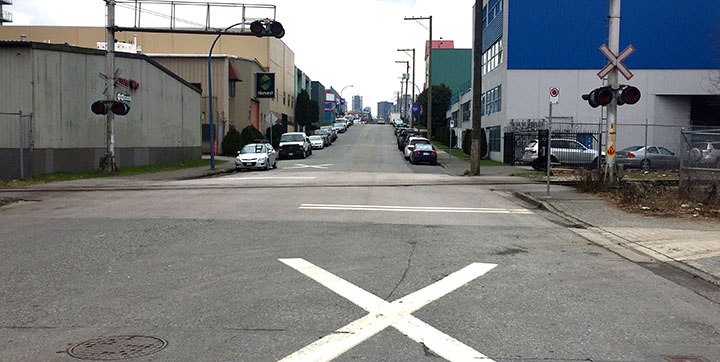 False Creek Flats Rail Corridor Strategy
The Burrard Inlet Rail Corridor connects the False Creek Flats railyards with the Port of Vancouver container terminals on the south shore of the Burrard Inlet.
Vancouver is part of Canada's Asia-Pacific Gateway and these rail lines play a vital role in moving goods that support the local, regional, and national economy by connecting British Columbia and Canada to Asia and the world.
Reducing impacts of increasing rail traffic
In 2012, the City approved the False Creek Flats Rail Corridor Strategy

(1.25 MB), which outlines mitigation measures to reduce impacts of increasing rail traffic on residents.
We identified building over or underpasses at key locations to grade-separate the rail line from arterial traffic.
Grade-separation from the rail line is important for many reasons:
Improve the safety for people crossing the rail line
Reduce traffic disruptions
Reduce shortcutting through neighbourhoods
Support local jobs and the economy by moving people and goods more efficiently
Move goods with fewer greenhouse gas emissions by trains rather than trucks
Constructing the Powell Street Overpass in 2014 was the first phase of the strategy. The last remaining arterial street that needs to be separated from the rail by an over or under-pass is Prior/Venables St.
Rail corridor strategies are an important component of Transportation 2040 to support Vancouver's role as a major port and gateway and to maximize the opportunities to move goods and people by rail.