Grandma On The Move
We partnered with award-winning children's entertainers Will Stroet of Will's Jams and the enduring Charlotte Diamond to inspire safe, courteous, and mindful road behaviour – especially for our most vulnerable and at-risk groups.
Children, seniors, people who walk, bike, or roll, including people in wheelchairs, are more vulnerable to injury or fatality than people in motor vehicles.
Will Stroet
"Writing Grandma on the Move was really fun because I love creating songs about biking, driving, walking, and riding transit, which are all things I enjoy doing in our city. I live in a multi-generational home with my parents, wife, and two girls, and we do all these things to get around town. Happy travels!"
Charlotte Diamond
"This is an important project! Families of all ages need to feel connected to the people and places where they live. They need to safely explore all the fascinating areas of their city, town, or community. Become a Grandma or Grandpa on the Move!"
---
Help spread the message of safety
Listen now
Grandma on the Move
Bike Safety Boogie
Walk 'n' Roll
Boost Me Up
I Have Shoes and I Can Walk
The Walking School Bus
Get involved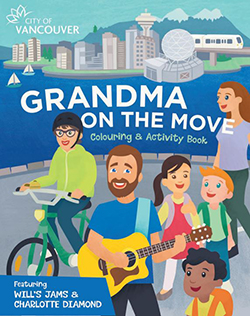 Listen for free on Spotify

Download the colouring and activity book (6.7 MB)

Sing-a-long with Grandma On The Move lyrics (683 KB)
Did you know?
Our traffic safety team follows the five Es of creating safer streets thoughout the city:
Engineering
Evaluation
Education
Encouragement
Enforcement
Compared to peer cities, fatality rates in Vancouver are low, but there's still room for improvement, as even one fatality is too many.
In recent years, we have taken several steps to improve transportation safety using collision data from a variety of sources to:
Identify key safety issues
Prioritize intersections and corridors in need of detailed safety assessments
Develop effective safety strategies
Monitor progress
Related initiatives