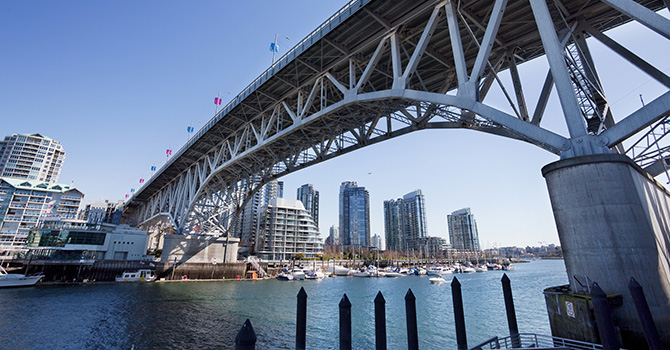 Granville Bridge upgrades - Structural repairs and recoating
We're carrying out critical structural upgrades to Granville Bridge to ensure this infrastructure continues to serve us well.
These upgrades include:
Repairing steel sections of the bridge
Renewing portions of the steel coating system
Coating systems are designed to protect structural steel from corrosion and are critical to maintaining the overall integrity of the bridge. The new coating will last 30 to 40 years, with regular maintenance.
To support this work, we will also be modifying the debris netting under the bridge.
What's happening

Phase 1 of this project is underway

Phase 1 has begun, which includes work on three sections under the south end of the bridge above Granville Island. Crews will use scaffolding and catwalks to complete this work with minimal footprint on the ground.
---
Overnight work
During July and August 2023, overnight grinding and sandblasting work is taking place Monday to Saturday from 11pm to 9am under the Granville Bridge. Noise is expected due to the nature of the work. A noise by-law exception permit allows this construction project to proceed outside of normal working hours.
Did you know?
Previous repairs to the bridge include:
1997: seismic retrofit of the north and south piers
2009-2010: installation of over 3,000 steel stirrups to the concrete ramps
2012: repairs to pier M7 at the north end
2013: replacement of the steel truss span bearings
2016: repairs to the gantry system
2019-2021: seismic and structural upgrades
---
Project details
Location
This project includes work on three sections under the south end of the bridge above Granville Island.
Duration
Fall 2022 to fall 2023
Work hours
Monday to Saturday: 7am to 5pm, extended hours as needed with overnight work taking place from 11pm to 9am.
Weekends: as needed
---
How this project may affect you
---
Related projects