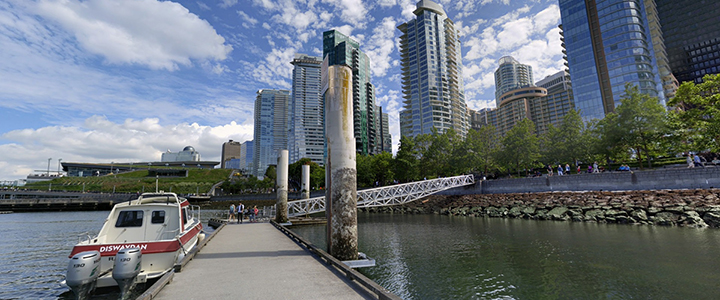 Harbour Green Dock renewal
The Vancouver Park Board is repairing and renewing the damaged dock at Harbour Green Park.
The dock was originally constructed as a pedestrian walkway and a temporary moorage space for small vessels. Over time, unauthorized use by large vessels and unfavorable wave conditions have damaged the dock.
What's happening
The dock is currently closed
The Park Board has engaged a contractor to carry out repairs, with construction beginning in March 2022. Supply chain and construction challenges have extended the project schedule, but we anticipate the dock will reopen in the spring of 2023.
The repairs will prioritize the restoration of the dock as a walkway and space for short-term recreational moorage, and increase the dock's resiliency to the conditions of the inner harbour.
Timeline
Here is our progress and planned steps.
2018

Spring 2019

Summer 2019

Assessment and options review

Spring 2021

Fall and winter 2021

Tendering and contract award

Spring and fall 2022

Spring 2023
Contact us