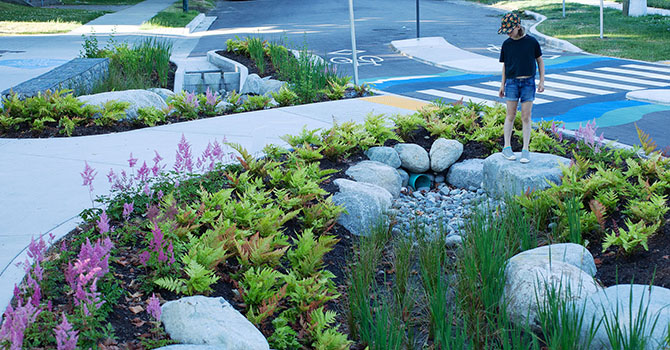 Hastings-Sunrise sewer renewal and Green Rainwater Infrastructure project
The Hastings Sunrise Sewer Renewal and Green Rainwater Infrastructure project will help meet Vancouver's regulatory requirement to eliminate combined sewer overflows by 2050. It will also help unlock development potential by adapting the neighbourhood sewer and drainage systems for pressures from growth and heavier rainfall expected with climate change.
This project is in partnership with the Government of Canada and the Province of British Columbia and has received grant funding through the Investing in Canada Infrastructure Program.
What's happening

Phase 2 construction is underway

Phase 2 construction work began in spring 2023 and sewer work on East 1st Avenue is now complete. All lanes on East 1st Avenue are now open.

Phase 2 sewer construction will continue south of East 1st for the rest of 2023.

Walking and cycling access will be retained where possible and detours will be in place. Watch for signage as the access points may change.
Combined sewer overflows (CSOs) explained
Some parts of Vancouver use a combined pipe system that carries sewage and excess rainfall in the same pipe.
During heavy rains, these pipes can become overwhelmed resulting in combined volumes of rainwater and sewage spilling into receiving waters like Burrard Inlet. These overflows reduce water quality and contribute to swim advisories on beaches.
This project will help reduce contributions to overflows at the Cassiar outfall, Vancouver's second-highest CSO location.
Project outcomes
Renew 4.5 kilometers of combined sewers with separated sewers that increase the capacity for heavier rainfall and eliminate CSOs by conveying rainfall and sewage through separate pipes
Install approximately 16 new green rainwater infrastructure features that use plants, trees, and soil to absorb and filter pollutants from rainwater, as well as approximately 28 drywells, all of which will assist with reducing the volume that enters our sewage pipes, and protecting water quality in nearby waterways.
Reduce infrastructure management costs by using green rainwater infrastructure which is typically cheaper to implement and maintain than grey infrastructure like pipes
Protect public and environmental health by reducing the contribution of CSOs to the Cassiar outfall, Vancouver's second-highest CSO location
Increase pedestrian safety with road improvements in areas adjacent to wək̓ʷan̓əs tə syaqʷəm Elementary School (previously Sir Matthew Begbie) in Phase 1, and adjacent to Sunrise Park in Phase 3
Project features
Sewer renewal to adapt the neighbourhood drainage system for growth needs and heavier rainfall from climate change
Green rainwater curb bulges that combine traffic calming measures and add green space
Dry wells to collect and disperse unwanted water from rainstorms and runoff and allow it to slowly seep into the ground
Curb bulges to narrow curbs at intersections encouraging vehicles to slow down and reducing crossing distance for pedestrians
Project location
This is a three-phased project that will span different neighbourhoods with different traffic impacts for each phase. Watch for local signage and notification letters to learn about how each phase may affect you.
---
How this project may affect you
Phase 3 impacts will be updated closer to construction start.
Timeline
January to spring 2023

Phase 1

Complete green rainwater infrastructure work north of East 1st Ave

March to winter 2023

Phase 2

Temporary paving of median on East 1st Ave
Complete sewer renewal on Windermere St across East 1st Ave
Remove temporary paving and replant median on East 1st Ave
Continue sewer renewal south of East 1st Ave

January 2024 to winter 2025
Contact us
This project is supported through a bilateral federal and provincial grant of $15 million through the Investing in Canada Infrastructure Program.


Contact information, partner agencies, and website policies