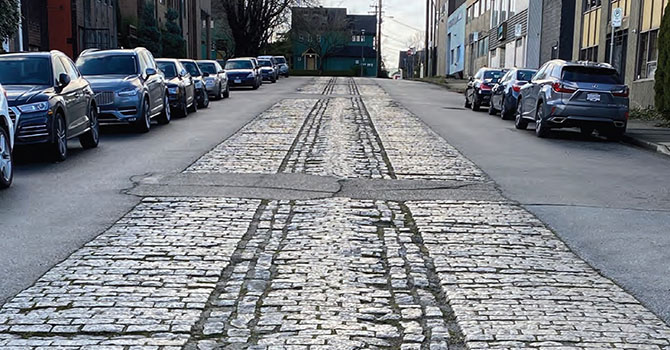 An example of heritage pavers on Frances Street in Vancouver
Homer Street upgrades
Phase 1 is expected to be completed by fall 2023. To improve safety, vehicle traffic will be limited to buses only until it is safe to re-open to general traffic.
Homer Street is a key arterial road that is heavily used by buses and leads to historic Gastown. The 300 and 400 blocks of Homer Street between West Cordova Street and West Pender Street are partially composed of exposed granite setts (pavers) under layers of asphalt that are wearing and pose a safety hazard to buses and other large vehicles, causing them to slip in wet conditions.
The granite setts will be removed and reused in line with Council's directive on the treatment of heritage pavements and the advice of a heritage consultant. This rehabilitation approach was endorsed by the City's Heritage Advisory Committee.
Project features
The project will be completed in 2 phases in order to re-instate the granite setts during favourable weather conditions.
Phase 1 (spring to fall 2023)
Extension of the west boulevard incorporating more trees, green rainwater infrastructure and street furniture. Green rainwater infrastructure uses plants and soil to capture and clean pollutants from rain, add shade, and provide habitat
Reinstatement of the salvaged granite setts in the extended west boulevard
Permanent removal of parking from the west side of Homer Street
Sidewalk improvements
Full road restoration of the west and centre travel lanes
New traffic signal at Homer Street and West Cordova Street
Traffic signal upgrades at Homer Street and West Pender Street and Homer Street and West Hastings Street
Removal of the final granite setts in the east parking lane
Completion of road restoration in the east parking lane
Phase 2 (spring to summer 2024)
Reinstatement of the heritage granite setts in the east parking lane
---
Details
Location
Contact us