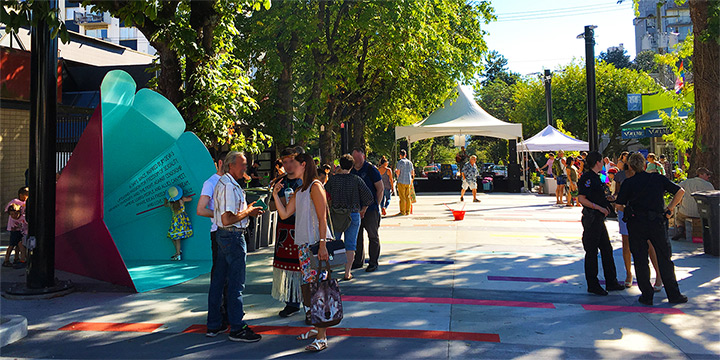 Jim Deva Plaza
Learn more about Jim Deva's Legacy, his contribution to the community, and his commemorative art piece; The Megaphone.
Jim Deva Plaza is Vancouver's first pavement-to-plaza project. The space was created by redesigning the block into a single continuous smooth surface that invites people in to sit and spend time relaxing in this busy urban centre.
Located in the heart of Vancouver's Davie Village, next to the rainbow crosswalks at Davie and Bute streets, Jim Deva Plaza is a community serving gathering space and home to a variety of events and activities.
The plaza is named after Jim Deva, long-time community activist, founder of Little Sister's Book and Art Emporium, and advocate for Vancouver's LGTBQ2+ community.
This unique community gathering space features a variety of seating and the iconic "megaphone" soap box, commemorating Jim Deva's extensive advocacy work in free speech and gay rights.
Public space management
We've partnered with the West End Business Improvement Association (WEBIA) for the management and oversight of this public space.
Through this partnership, we're taking a proactive approach to managing the promotional and operational needs of the space to ensure the plaza remains safe, lively, and inviting for years to come.
Jim Deva Plaza began as a part of the West End Community Plan.
Contact us
If you would like to learn more or get involved in this space contact us at plazas@vancouver.ca.