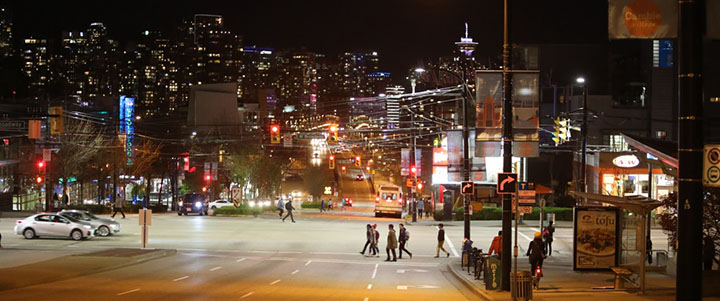 Outdoor Lighting Strategy
Lighting helps make our streets safe for all road users, enhances our public spaces, and helps us to enjoy our city at night. To meet the needs of residents and businesses, Vancouver has developed an Outdoor Lighting Strategy.
The strategy provides direction on outdoor lighting on streets, public spaces, and private properties across the city. It is meant to:
Improve public safety
Provide accessible and inviting outdoor spaces
Reduce light pollution
Reduce energy usage and cost
Minimize ecological impacts
What is in the strategy
Updates to the Building By-law (effective November 1, 2019)
Updates to the Untidy Premises By-law (effective November 1, 2019)
New engineering street and public realm design guidelines
Corporate leadership in our own facilities
Exploration of opportunities to support dark-sky programming and education on light pollution
Why an Outdoor Lighting Strategy?
Outdoor lighting design tips
Use full-cut off fixtures
Avoid glare using glare shields as needed
Install dimmer and timing controls
Use warm colours
Direct light where it's needed
Read our brochure (767 KB)