Walking accessibility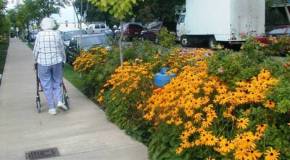 Increasing the walkability and accessibility of Vancouver's streets and sidewalks is a City priority. It is important that all residents are able to participate fully in the community, regardless of ability.
Sidewalk curb ramps
Curb ramps on street corners create access for people using wheelchairs, walkers, and strollers.
Recognizing the importance of sidewalk accessibility early on, we have been installing over 200 curb ramps per year since the 1960s. There are curb ramps on more than 95% of sidewalk curbs in the downtown core.
Our engineers prioritize curb ramp requests to areas with a high level of pedestrian traffic, including:
Collector and arterial roads
Bus routes
Schools
Community centres
Shopping areas