Walking and accessibility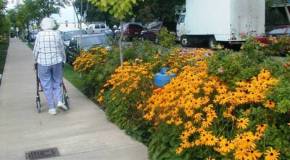 Increasing the walkability and accessibility of Vancouver's streets and sidewalks is a City priority. It is important that all residents are able to participate fully in the community, regardless of ability.
Sidewalks
Sidewalks are crucial in improving walkability. While the City of Vancouver has an extensive sidewalk network, in many areas there are still hundreds of kilometers of missing sidewalks. The City is actively working on bridging this gap through development and capital projects.
Curb Ramps
Curb ramps provide a smooth transition between the sidewalk and roadway which improves connections for pedestrians who use wheelchairs, strollers, or other forms of mobility aids. Score lines in curb ramps provide guidance to pedestrians who are blind or have low vision.