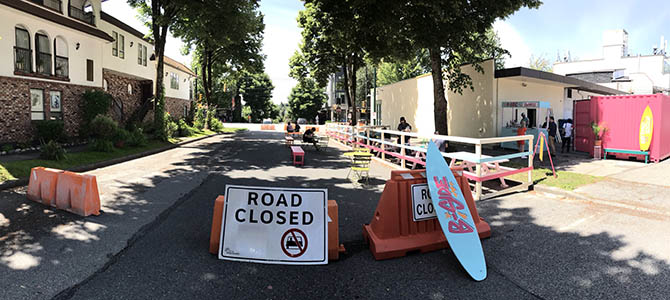 Pop-up plaza at 27th and Fraser. Partner: Say Mercy! Restaurant
Pop-up plazas
We've partnered with business improvement associations (BIAs), local businesses, non-profit organizations, and community organizations to create more than 20 pop-up plazas in neighbourhood hubs throughout Vancouver in response to COVID-19.
Pop-up plazas have been embraced by communities as outdoor spaces to socialize, share a coffee or a meal, enjoy a small concert, or simply sit and rest.
As temporary spaces, most pop-up plazas include simple design and amenities. In partnership with plaza stewards and the broader community, we're taking steps to upgrade a number of pop-up plazas to become long-term, higher-quality plazas that reflect and serve their communities.
What's happening

Help shape upgrades coming to two pop-up plazas

Upgrades are being planned for the pop-up plazas at two locations. Your input on the proposed upgrades and design concepts will inform how these spaces evolve to become long-term, higher-quality, semi-permanent plazas.

18th Ave and Cambie St

We're seeking input on proposed upgrades and two design theme concepts.

13th Ave and Granville St

In partnership with the South Granville Business Improvement Association, we're seeking input on proposed upgrades and a conceptual design.
How to get involved
Take the survey until March 21, or join a virtual workshop on March 15 or 16 from 6 to 8:30pm
Contact us