Powell Street Overpass project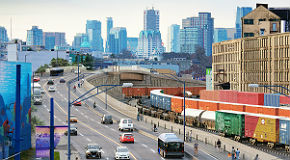 The Powell Street Overpass project is a $50-million major road and rail infrastructure enhancement for a section of Powell Street in Vancouver's Downtown Eastside, just west of Clark Drive.
Project goals
Expand capacity and enhance the rail network that supports the movement of goods through Port Metro Vancouver
Improve access and safety for pedestrians, cyclists, and commuters in the Powell Street corridor
The City contributed $3.75 million to the project, and was responsible for delivering the project on behalf of funding partners, which included Port Metro Vancouver, Transport Canada, CP, and TransLink.
Construction began in June, 2013 and was completed in the summer of 2014.
Related projects