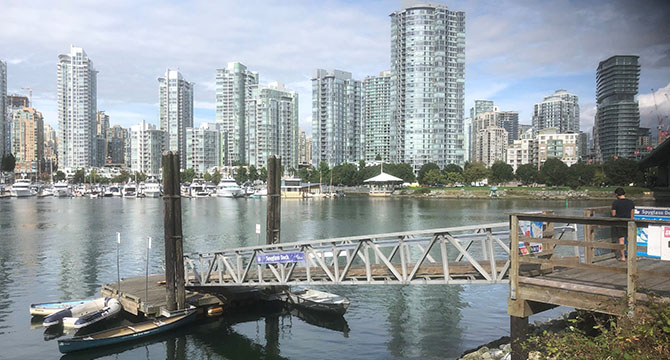 Proposed Wharf By-law
To ensure that City-owned waterfront wharves, facilities, and properties are safe, accessible, and user-friendly, we are proposing to implement a Wharf Regulation By-law.
The new by-law will:
Improve enforcement of existing regulation for moorage and activities on the City-owned wharves in False Creek, as well as City-owned waterfront lands and facilities not covered under existing moorage agreements
Address multiple challenges at City wharves regarding equitable access, competing uses, and reduce damage
The location of all City-owned wharves with short-term public moorage areas can be found in the draft by-law . (1.1 MB)
Sanctioned public wharves and proposed by-law regulations
We own and maintains six public wharves in False Creek which facilitate public use and provide designated short-term moorage opportunities. Other City-owned wharves, facilities, and properties do not accommodate public moorage.
Park Board marine facilities
A number of marine facilities are owned by the Park Board, including:
Vanier Boat Ramp
Alder Bay and Harbour Green docks
False Creek Paddle Centre
Beaches throughout the city
Park Board staff are working on regulations similar to those in this by-law, and will be undertaking a separate and independent review and implementation process.
Long-term moorage options
Those looking for long-term moorage option should contact Heather or Burrard Civic Marinas or private marinas. Private facilities are also available around the city outside of False Creek.
Help us keep our wharves pristine
If you notice a problem with a dock or boat ramp, help us fix it by calling 3-1-1.
For questions about this proposed by-law, email wharfbylaw@vancouver.ca.