Protected bicycle lanes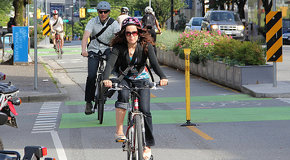 Cycling is the fastest growing mode of transportation in Vancouver. From 2008 to 2011 alone, trips by bike increased by a full 40% (see note 1 below).
To help build on this shift, we have made cycling a much safer and more attractive option, by adding protected bike lanes to key city streets.
Protected bike lanes increase both cycling and walking trips
Protected bicycle lanes are dedicated bike lanes with concrete medians and planters, bicycle parking corrals, or vehicle parking lanes that divide them from vehicle traffic.
This separation increases feelings of safety and comfort, which makes cycling an attractive commuting option for those who are not used to riding their bikes regularly.
When people walking know that people won't be riding their bikes on the sidewalks, walking feels more comfortable, as well.
Protected bike lanes in downtown Vancouver
We have protected bike lanes on many downtown streets, including Burrard Bridge, Carrall Street, Comox/Helmcken Street, Dunsmuir Street, Dunsmuir Viaduct, and Hornby Street.
Painted bike lanes and protected bike lanes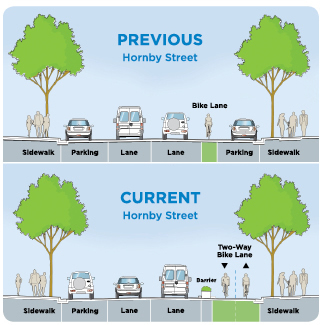 This drawing shows the difference between the previously painted bike lane and the current protected bike lanes on Hornby Street.
On streets such as Hornby and Dunsmuir streets, protected bike lanes provide two-way travel for people cycling on the same side. This can create the need for additional traffic signals for both cycling and walking traffic.
On streets such as Burrard Street (Drake to W 1st Avenue southbound and W 1st Avenue to Pacific Street northbound), the protected bike lanes are one-way on one or two sides of the street. Please ride safely, and ensure you are riding the right way in a one-way bike lane.
Protected bike route usage
We collect statistics about total monthly trips and mid-week daily trips for the following protected bike routes:
10th Avenue (at Clark Drive)
Burrard Bridge
Canada Line Bridge
Dunsmuir Street
Dunsmuir Viaduct
Hornby Street
Lions Gate Bridge
Union Street (at Hawks Street)
Science World
Notes
1 This research and analysis is based on data from TransLink, and the opinions expressed do not represent the views of TransLink.