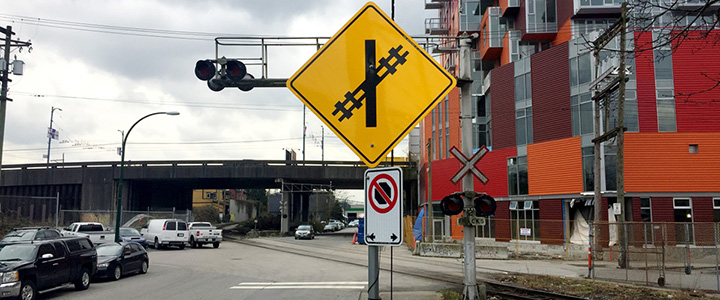 Rail safety
We're working to reduce impacts from rail activity and improve the safety near rail crossings.
Vancouver is a gateway for Asia-Pacific trade, which makes the railway critical to the movement of goods around Canada and North America. Rail presence is vital to our strong local economy, but requires us to be alert and be safe around rail crossings.
We're also working to build over or under passes near the Port of Vancouver to separate the rail line to enhance safety and reduce congestion caused by waiting for trains to pass.
What's on this page
Contact us
Safety improvements
We work with the railways and take action on our own street right-of-way to improve safety and minimize traffic congestion around trains. We are:
Installing train presence monitoring devices to track the frequency and duration of trains at key crossings
Applying for funding to develop real-time alerts for motorists
Rehabilitating sidewalks near crossings
Upgrading railway warning devices
Improving pavement markings and signage
Working with Operation Lifesaver to increase public awareness of safety at rail crossings
What's happening

Changes to Raymur Ave rail crossing

The Raymur Ave rail crossing (north of Hastings St) in Strathcona is changing.

The modifications are needed by 2024 to meet Transport Canada's new 'Grade Rail Crossing Standards' and to address feedback we heard from neighbouring residents about noise from the bell warning system.

No changes are being proposed to the crossing at E Cordova St. The current rail crossing and warning system at E Cordova St meets Transport Canada's new 'Grade Rail Crossing Standards'. A closure to motor vehicles (but likely not people walking and cycling) may be considered in the future.
Exploring designs
In June 2021, we engaged with stakeholders, businesses and residents to gather feedback on a proposed design that would be implemented by fall 2021.
Transport Canada has extended its deadline to implement changes to 2024. We will be using this time to study other designs that address feedback around motor vehicle access in the proposed design.
We will be reaching out to stakeholders, businesses, and residents after the completion of the study.
Questions
Contact us with questions or feedback about the rail crossing safety changes by:
Our responsibility to residents
Safety is our number one goal, and our work is guided by policies such as the Greenest City Action Plan (for issues such as air quality) and the Healthy City Strategy (for issues such as livability).
We have no authority over rail operations, but are committed to supporting residents in discussions with the Canadian Transportation Agency and rail companies to address issues of health and safety.
Our responsibility to rail
Vancouver's Economic Action Strategy (2011) focuses on attracting and retaining people as key economic drivers, creating a climate for growth and prosperity, and supporting business investment and trade.
We have a key role in supporting the Port as a gateway to global markets through local land use and transportation policies.
Rail safety tips
Use designated railway crossings
Exercise your patience
Never walk, bike, or drive along railway tracks
Don't be distracted by phones or other devices when behind the wheel or near a railway crossing
Keep your distance as trains appear to be much further away and slower than their actual speed
Avoid stationary railway cars as they can move at any time
Know the signs
Learn about the hazards of rail crossings and trespassing on railway property.