Register your bike to reduce theft
Let's register 100,000 bicycles – it's free!
Around 2,000 bicycles are reported stolen in Vancouver every year, but only a few get returned to their owners when recovered by police.
Why so few? Because many owners don't record and share their bike serial number and description.
Help defend against the bike theft epidemic by:
Registering your bike with 529 Garage bike registry for free – it takes only five minutes!
Getting a 529 Garage decal to discourage thieves
Locking your bike properly
Getting a 529 decal
Get a free decal at your local community policing centre
Visit a participating business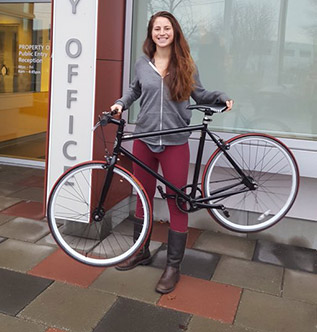 529 Garage works! This person got their stolen bike back because they registered it.
Locking your bike
Use a high-quality, durable lock – not a cable lock that's easily cut
Locks are about buying time. A burly chain at least 12 mm thick will delay thieves the longest. Ask your local bike shop for recommendations.
Find a sturdy and anchored bike rack, pole, or object
Your bike is only as secure as what you're locking it to. Make sure thieves can't lift your bike over the object or detach the object from the ground to take your bike. Shake the object first to check it's bolted or cemented. Avoid locking your bike to handrails or other mobility aids.
Secure your whole bike
Protect your wheels! Remove the front wheel, then lock both wheels together with the frame. If you can't lock a wheel, take it with you.