Ridgeway Greenway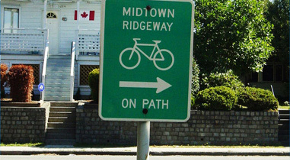 The Ridgeway Greenway is almost complete and extends approximately 13 km right across the City from Pacific Spirit Park to the City of Burnaby's Central Park.
This cross-town route starts on 8th Avenue at Blanca Street. It passes through the leafy residential neighbourhoods of West Point Grey, Dunbar, and Kerrisdale to 37th Avenue. The Ridgeway Greenway continues east on 37th from Granville Street to Nanaimo, then along 45th Avenue and ends at the Vancouver/Burnaby border at Central Park.
Except for a mixed-use path in Jones Park, pedestrians use the sidewalk and cyclists share the road with vehicles along traffic-calmed streets.
Destinations
The Greenway is located primarily along the north side of the street to take advantage of the many public open spaces along the route, the sunny side of the street, and the view opportunities.
Some of the Ridgeway Greenway's major destinations include:
A scenic lookout at Discovery St and 8th Avenue
VanDusen Botanical Gardens
Queen Elizabeth Park